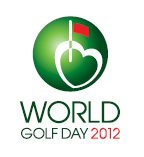 CMAE is pleased to announce its partnership with World Golf Day, a unique new global initiative which aims to unite the global golf community in celebration of the sport of golf and, by raising funds for local and international charities, to showcase the generosity inherent in the sport. The first World Golf Day will be Saturday 19th May 2012 and participating clubs will be hosting events on or around that day.
By bringing the golf industry together, the charitable aim of World Golf Day is to raise funds in the name of golf to a level which truly enables a difference to be made to the lives of young people around the world trapped in a cycle of poverty. All funds raised from golfers and golf clubs through World Golf Day will be passed on to the charities without any deductions whatsoever.
Beyond its charitable aims, we believe strongly in the marketing potential that World Golf Day offers for the sport as a whole and for the individual Clubs.
In its first year, in order to ensure a strong and manageable foundation for future growth, World Golf Day seeks only to work with a few hundred Clubs around the world with a desire to include a number of the leading clubs in each market. To date, commitments have been received from over 100 leading clubs in 40 countries. However, the objective from Year 2 onwards is to engage with all golf clubs and facilities, and with many of the key industry stakeholders, consistent with its wholly inclusive philosophy.
We view one of the strengths of World Golf Day as its wholly flexible engagement model with the Clubs. There are no prescribed event templates and no minimum requirements; and there is an openness to raise funds for local charities designated by the Clubs, alongside the World Golf Day charities. World Golf Day is what each Club wants to make of it. Some Clubs may integrate World Golf Day into their existing Club competitions; some may elect to create dedicated World Golf Day events for members, guests and/or visitors; while others may raise funds through green fee premiums, putting competitions, raffles or other such formats.
World Golf Day will shortly be launching its website www.worldgolfday.com. This will be employed as a platform to profile the support and generosity of all participating Clubs. Additional media channels will be established with the support of IMG and the greater the creativity of a Club's events and other activities, the greater the potential to leverage these into media profile.
Through our partnership with World Golf Day, we have agreed to present this opportunity to our members and have agreed that World Golf Day will make a contribution of £100 to the CMAE's new initiative, the European Club Education Foundation, for each member who, through this introduction, participates in World Golf Day.
The CMAE asks you to please look very closely at this very important initiative, and we hope that you and your clubs will decide to participate in World Golf Day 2012.
World Golf Day Brochure
The World Golf Day brochure is available to download in 8 different languages below: