Leading club managers from America gathered in Edinburgh for the 2022 Club Managers Association of America (CMAA) Business Management Institute (BMI) International Conference from 6-11 October.
The event, which was organised and hosted by the CMAE, saw around 100 club management professionals from major US golf, country, city and dining clubs attend the five-day programme, which was a combination of keynote presentations, interactive sessions, round table debate and networking, as well as including a fantastic social calendar in and around historical Edinburgh. BMI International takes place at various places across the world bi-annually.
The event saw delegates visiting some of Edinburgh's most prestigious venues and historic clubs including the Signet Library, Musselburgh Pavillion, the Renaissance Club, Luffness New Golf Club, The New Golf Club, the R&A World Golf Museum, Royal Troon, Royal Burgess and finishing off with an evening at Royal Yacht Britannia.
The first evening saw delegates welcomed by the Haddington Pipe Band and an interview with Solheim Cup winning Captain, Catriona Matthew at The historical Signet Library, conducted by former CMAE President David Roy CCM.
A few of the highlights of the event were a full day travelling around East Lothian, visiting a number of clubs where they were welcomed with open arms and superb presentations on mostly Food & Beverage but of course also history and other relevant subjects.
Provost of East Lothian Council, Councillor John McMillan, said: "It's wonderful that representatives from the CMAA are visiting Musselburgh Links during its milestone 350th anniversary. We will be delighted to showcase East Lothian's world-class golf offering and demonstrate why we are rightly known as Scotland's Golf Coast. Not only that but they will literally get a taste of East Lothian's wonderful food and drink with a top chef and some of our local producers in attendance. The event will show why a golfing trip to East Lothian is something unforgettable."
Another highlight saw the delegates visiting St Andrews to get the full experience with the famous Swilcan bridge photo, a reception at the wonderful World of Golf museum as well as a historic presentation inside the New Golf Club.
The conference wrapped up on Tuesday 11th October spending the day at Royal Burgess talking about women in leadership, followed by an evening spent at Royal Yacht Britannia with farewell speeches and thanks given to the local organisers Mary Lou Watkins (Luffness New Golf Club), Debbie Pern, CCM (Deeside Golf Club) and David Roy CCM (Crail Golfing Society).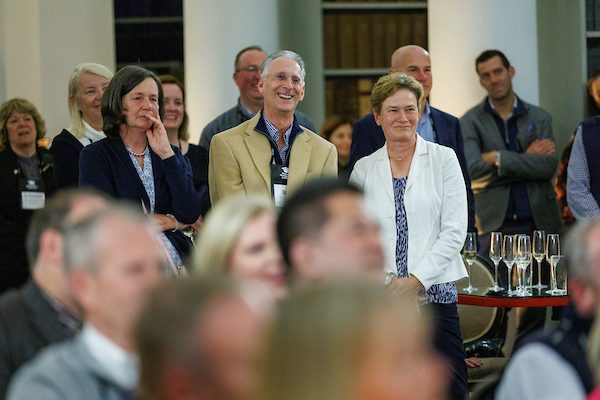 Supporting Subhea