Clubs, like every other business in the UK, need to rise to the challenge of the economy we find ourselves in. This short, sharp audit is a good exercise to make sure you're covering all bases, says Caroline Scoular.
To meet today's challenges, clubs must continue to present themselves in the most professional manner that they can.
Judging by appearances
The external appearance of the club is the first impression that members – and potential members– get of your club. The wrapping can be as importantas what's inside and perceptions can be heightenedby taking time out to ensure you stand out inthe crowd. Take a step outside the club. Would yoube attracted enough to walk through the doors?Does it have 'curb appeal'?
Of course the vast size of many clubs and the cost of external decoration can make this a costly exercise. But even the smallest attention to detail can make a big difference. Ensuring that the doors are clean and freshly painted is an obvious one. Hanging baskets and plants can hide a multitude of sins and in the hands of the right committee member/s can be a cheap and effective way to inject new life into a tired exterior.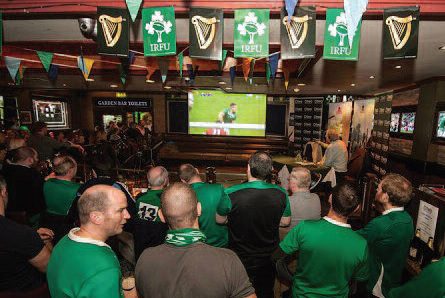 Signage counts
Make sure signage is sited correctly, that it is illuminated where it should be and ensure advertising material such as posters are in date. A wind-tattered poster announcing dates long gone by does little to present the venue as an upbeat, finger-on-the-pulse club.
Marketing matters
Impact and a 'wow' factor are important to grow the member base. The more advertising and marketing you can do the bigger the impact on membership and events sales, and – from a PR perspective– maintains the club's profile in the minds of old, new and prospective members.
Mailings to your membership database (where possible) is another way of ensuring you are generating the greatest footfall you can when attracting people to your events. This is where all your marketing initiatives should start – they are your most loyal customers.
Sports screenings and big events
Advertising is essential in and around the venue –particularly with respect to sports screenings. Make sure you regularly select the big dates, get the posters up and maximise the potential.
Often it is important to include promotional offers or something of interest to pull members away from the comfort of their own home. Checkout your local competition. What are they doing?
The high traffic areas at your venue are the ideal locations for advertising literature – toilets, notice boards and entrances. Make sure these areas are well covered.
All staff need to be fully briefed regularly on up and coming events. They are your sales team and are not just there to pull pints. Share the responsibility and strain with them giving you more time to focus on the detail.
Funding plans
Seeking out sponsorship for events and functions means clubs can expand on original plans with a greater degree of support and finance.
Raising the bar
The product portfolio is key – the right brands, with the right support at the best prices giving the necessary margins. Members' preferences, combined with new (appropriate) launches and offers etc is the obvious port of call.
How you promote and display the bar offering is also vital to encouraging volume up sells. Eye level positioning of high profit products and the overall general appearance of the bar are massive contributory factors in your challenge to increase revenues for the club.
Targets and training
Staff training is ever more important given the competitive marketplace that clubs are in. Product knowledge, customer skills, service techniques and a positive attitude are all essentials.
And finally, for smaller clubs who may think they don't need a business plan, now's the time to reconsider. Developing a business plan (whatever the size of the club) and setting targets is the way to achieve objectives. Every business needs a framework to ensure it stays on track, focused –and open!
Article published in Clubhouse Europe issue 12