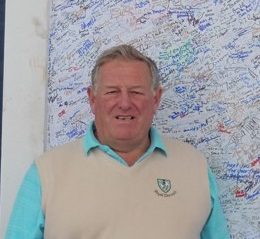 ​I participated in the formation of CMAE as I strongly believed then, and continue to do so, that managers in Europe, irrespective of any prior employment, should be able to attain a respected professional qualification relevant to Club Management. I take great satisfaction in reading the positive comments of those who have gained the CCM and also from seeing the appetite of those on the pathway for CMAE educational programs. It is a win-win situation for the individuals and for the members they serve
John Duncan started playing golf prior to teenage years in Selkirk in the Scottish Borders and continues today thanks to the surgeons who fitted him with 2 replacement hips. After graduating with an MA (Hons) Economics and Economic History from Edinburgh University he served 26 years in the Army retiring in 1994 as a Lieutenant Colonel. In the army he was responsible for monitoring the £300M Logistic Budget for the British Army of the Rhine and also the £180M Occupational Cost Budget for the British Sector of Berlin ensuring expenditure was within that approved by the Federal Ministry of Finance in Bonn. He was Commanding Officer of the Command Pay office in Hong Kong dealing with finance for all services in the Far East and Ghurkha service pensions in Nepal and elsewhere.
In Hong Kong as Captain of Combined Services Golf he was Chief Marshall for the Hong Kong Open and Dunhill Cup Qualifying tournaments. At the Open he was fortunate to meet Tom Watson who won the event and this was undoubtedly helpful when on retirement he applied for the Secretary/Managers post at Royal Dornoch Golf Club. John was General Manager and Secretary at the Club for 16 years building up its membership and finances, the latter particularly through visitor green fees. The Donald Ross connection and compliments by Tom Watson put the club firmly on the itinerary of US golf tourists.
John was a founder member in 2001 of the Club Managers Association of Europe and was its second President. He organised the first International Business Management Institute seminar in Dornoch in 2003. He passed the Certified Club Managers exam in 2011 and is currently Chairman of the Certification Panel.
He has been happily married for 44 years and has a daughter and son and two grandchildren from the latter. In addition to golf his other prime interest is music. He performs in 2 choral societies and an amateur operatic group, at times having solos and principal roles.