Revolutionary design of Greensmaster® 1000 still influencing greens cutting worldwide
Sometimes things happen. New products are launched, new technology is developed, or in perfect harmony the two combine – and the result is something that just can't be beaten. Toro's Greensmaster® 1000 pedestrian greens mower is one such example.
This Toro classic is as popular now as when it launched in 1989, bringing with it no less than four revolutionary and innovative design features that are now widely seen in professional pedestrian greens mowers across the world.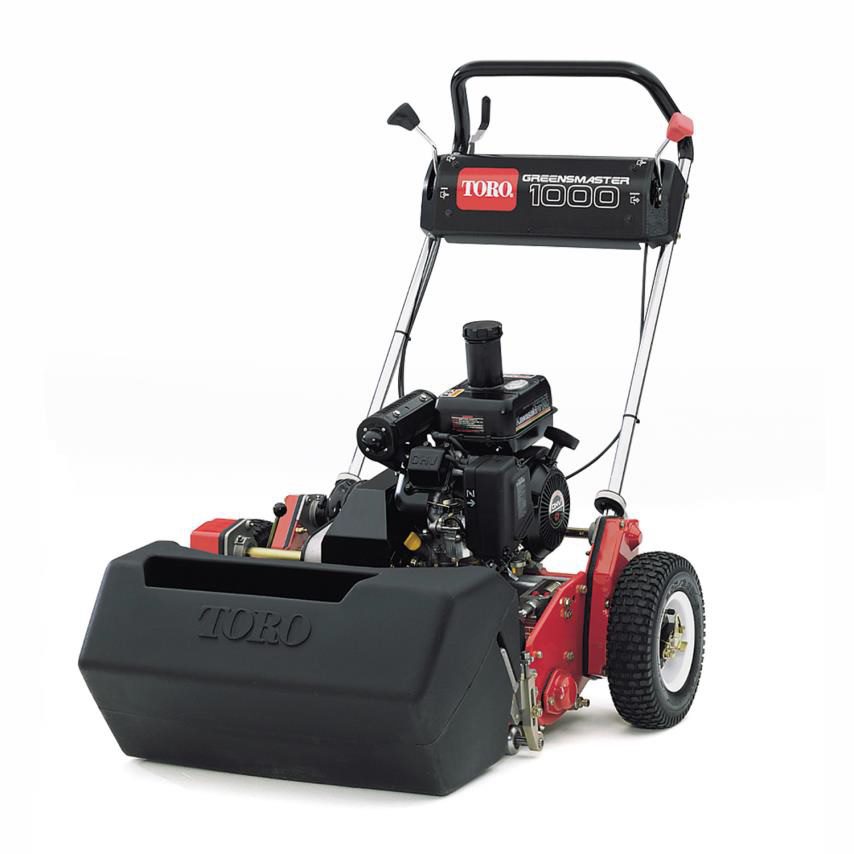 Innovative then and today, Toro's Greensmaster 1000 pedestrianmower remains a best seller 28 years on from its launch
"The Greensmaster 1000 introduced several new features to critical acclaim," said Helmut Ullrich, senior product manager at Toro. "The loop handle design and the 'Dual Klick' adjust of the bedknife were industry firsts. As was the front weight bias, which offsets the operator's natural tendency to place weight on the handle, allowing the cylinder to better follow the ground's contours for a consistent cutting height. A wide kickstand for stationary stability to change transport wheels was new as well, and all together they combined to deliver a superior quality of cut that remains unmatched today."
It isn't off the mark to claim the Toro Greensmaster1000 is the pedestrian mower that changed greens mowing forever. Instrumental in the appearance of the greens of many of the most prestigious courses in the world, it has earned its long-standing place in the hall of turfcare machinery fame.
The mower's smooth drums are gentle on greens, and grass baskets distribute clippings evenly for optimal mowing on each pass, whether the conditions are wet or dry. Even at the lowest height-of-cut setting, the Greensmaster 1000 provides a consistent finish thanks to its well-balanced weight distribution that ensures straight-line tracking with minimal operator guidance. This, coupled with its other features, produces the smoothest, most uniform cut possible in a greens mower.
Jeff Anguige, national sales manager at Reesink Turfcare, UK distributor of Toro, says: "The impact of the Greensmaster 1000 on greens mowing is tremendous. Its impact resonates today and has been felt on greens across the world. Age doesn't diminish its standing. Its technology is such that it keeps on delivering nearly 30 years later, and that's a fact undeniable when it is still one of our best sellers today."