The CMAE is delighted to announce three more members have gained the coveted Certified Club Manager (CCM) designation.
The CMAE is delighted to announce three more members have gained the coveted Certified Club Manager (CCM) designation.
Ed Edwards, Chief Operating Officer at Golf Saudi, Francisco de Lancastre David, Cluster General Manager for Abu Dhabi Golf Club, Saadiyat Beach Golf Club and Yas Links Abu Dhabi and Yassen Yankov, General Manager at The In & Out (Naval and Military Club) all passed the seven-hour examination and have been awarded the CCM.
The success of three candidates raises the number of Certified Club Managers in Europe and the Middle East to 58.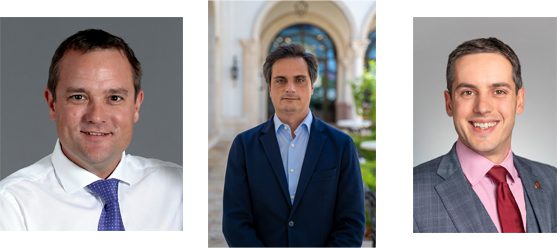 Pictured from left to right: Ed Edwards CCM, Francisco de Lancastre David CCM, and Yassen Yankov CCM
Ed Edwards is the first person working in Saudi Arabia to gain the CCM and comes as CMAE and Golf Saudi have announced a new partnership to create certified industry leaders amongst Saudi nationals. Commenting he said "The CMAE journey has been greatly fulfilling on a personal level and I am delighted to have achieved CCM status. The CMAE educational pathway has not only provided me with access to an industry leading educational program with world class facilitators, but also given me the opportunity to expand my peer network which combined have furnished me with essential tools to become a more accomplished professional.
However, the greatest reward throughout this journey is not one of personal achievement, rather it is encouraging colleagues at various facilities I have been fortunate to manage around the world go through the same CMAE journey and witnessing the results in personal development and performance on completion of each stage of the educational pathway. I am now greatly looking forward to working closely with the team at CMAE to develop a customised certification program specifically for Saudi Nationals that will nurture and certify the future leaders of the game within Saudi Arabia and beyond."
Yassen had two reasons to celebrate as he was welcoming his second son into the world at the same time he had the phone call to confirm he had been successful. "I am very pleased to have obtained my CCM qualification! It has been a long journey which started back in 2016 with the first MDP1 in Dubai. What a great way to end the year which most people would like to forget!" he said.
"The CMAE has been a great source of knowledge and I would encourage everyone in this industry to join! Thank you to Mike Braidwood and Toby Johansson for organising the educational courses, your contribution to the association has been truly outstanding."
Francisco is the first Portuguese national to gain the CCM and is delighted to join the CCM tribe. "I am delighted to have achieved the CMAE CCM Certification – certainly a highlight in my continuous learning and development process of the past few years. It has been a great journey to attend all the MDP's and to experience the World Conference in Dallas last year. A special and personal thank you to Toby, Debbie and the entire team at CMAE for their support in this process.
I have been working outside Portugal for the past 10 years now, however it is great to learn that I am the first Portuguese to achieve CCM Certification and also to know that there is now many Club Managers from Portugal enrolled in the MDP pathway and soon can apply to sit in the CCM Exam.
I strongly recommend all members of our Industry to take advantage of the CMAE network and their continuous personal development opportunities – it has certainly helped me along my professional journey!"
The CCM designation has been the hallmark of professionalism in club management since 1965 and is the cornerstone of CMAE's member recognition programme. It is a valuable and widely respected mark of a manager's commitment to professional development and the club industry.
For more information on the CMAE Management Development Programme click here