The Golf Health & Safety Survey 2022 recently revealed that over 70% of Golf Club Managers felt they weren't meeting min legal requirements for Safety and Compliance in their Club. However, only 13% of Clubs use a specialised software system for their Compliance, Safety or Training. Despite these statistics, the overwhelming feedback from Clubs and several key leading organisations like Howden Insurance Brokers felt that using Health & Safety software would increase safety and save them time and money in the long run.
Most Clubs are reactive rather than proactive with their Health and Safety Compliance, no major action is taken until an accident happens. Clubs who focus on best practice as well as the minimum legal requirements understand that effective Health and Safety Compliance requires both reliable policies and procedures as well as effective communication. Promoting Health & Safety Compliance throughout your Club will ensure that employees are aware of their respective responsibilities and the importance of Safety.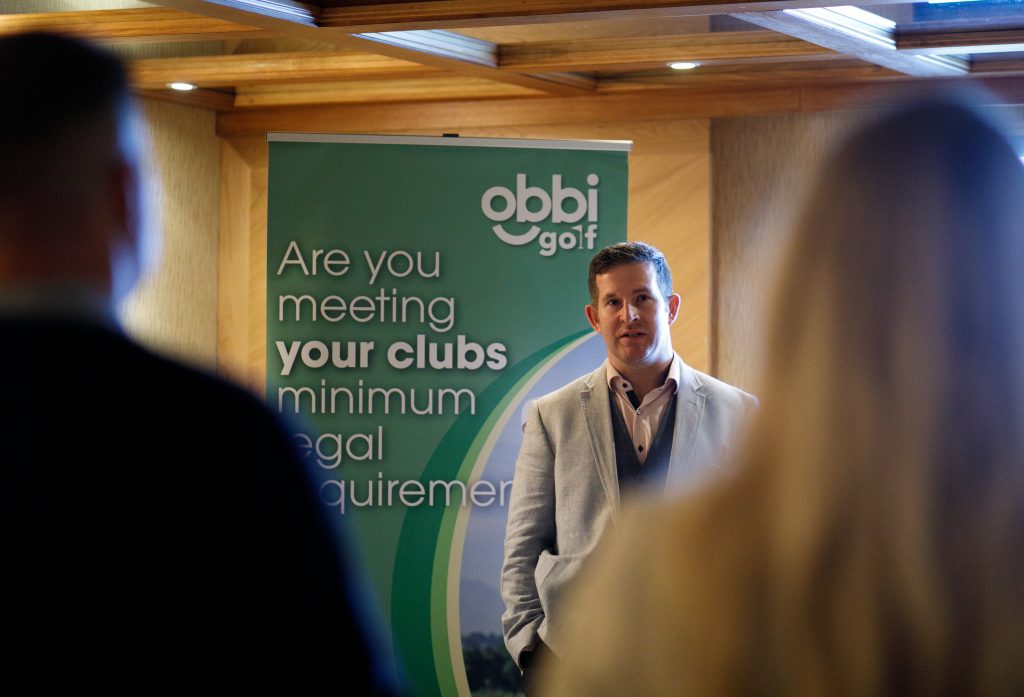 Golf Club Managers wear many different hats and look after all departments, which can mean they are under a lot of time pressure. They are dependent on paper, spreadsheets, and unconnected systems in key departments across Operations, Greenkeeping, Hospitality and Sub-contractors. Departments work in silos for large parts with key information not readily available to the right people at the right time. This makes it understandably difficult to have easy communication and full visibility of all risk assessments, audits, checks, training, and mandatory tasks for safety.
Using a software solution that integrates all departments means you can see that everything is under control immediately. If it's not under control, this will show as an alert and notify those who need to rectify the situation. Having full oversight of accidents and near misses lays out a clear pathway for improvement and developing strategies to make the Club safer.
Compliance, Safety and Training platform, Obbi Golf is working with global insurance giant Howden Insurance Brokers and Safety Expert Steuart Fotheringham from ALPS Consultancy to help clubs improve their safety, compliance, training strategies and systems.
Steuart Fotheringham, ALPS Consultancy, said, "Food safety law is governed by the principle of a 'due diligence defence' – this means that if you can prove that you have followed a suitable food safety management system then that can be a defence. You do, however, make sure that your system / records are complete and accurate. Food safety law is criminal law and can (and does) result in hefty fines and prison for people who disregard food safety law."
Embedding best practice into your team at your Club will not only empower them to feel confident in their tasks and duties but will leave less room for slip ups or mistakes within Health, Safety and Compliance.
Mike Farrell, Associate Director within the Howden Insurance Brokers Sport & Entertainment team said "When defending a claim, insurers need to be equipped with as much evidence and knowledge as possible. Having readily available training logs, risk assessments and accident report logs are vital. Claimants are required to evidence negligence was present. If you can evidence all processes were adhered to in line with guidelines, or all training requirements were up to date, it's makes it easier for insurers to defend a claim on your behalf. This in turn will protect your claims experience, and your P&L without claims driven increases in your insurance costs".
This highlights the unequivocal need for Clubs to have the minimum legal requirements covered, but at the same time putting focus on proactive solutions and best practices that will make their Club safer and save them money in the future.
Obbi Golf CEO, Gareth Macklin, said,
"Using an integrated software solution for your Compliance, Safety and Training makes Club Managers lives easier and helps them sleep comfortably in their beds at night. We are operators ourselves and were trying to find a platform to integrate lots of the things that are out there. Obbi Golf covers everything around people – from on-boarding of staff, HR, training, and communication. It handles processes from quality checks, machine checks, weekly fire checks and audits. Plus, from a safety perspective, it covers risk assessments, accident reporting, insurance documentation. We identified that there are lots of individual solutions out there – from Excel, pen and paper and individual apps – but we wanted to make things far easier and bring it all together. In doing so, we make it easier for Club Managers to go beyond the minimum legal requirements. Showcasing best practice to not only internal and external staff, but all who visit the Club.
We have won multiple different awards for innovative product of the year, Irish tech product of the year and we have recently been named one of the top fifty most innovative companies in the UK and Ireland, specifically for this golf product."
To access the full Golf Health & Safety Survey Report with in-depth statistics and expert advice on best practice within Clubs click here – https://online.flippingbook.com/view/180741257/
If you would like more information on how to make your golf club safer with software visit www.obbi.golf or email [email protected]