CMAE's latest Management Development Programme (MDP) Part 2 was a complete success for its hosts the Scottish Golf Ltd. (SGL).
CMAE's latest Management Development Programme (MDP) Part 2 was a complete success for its hosts the Scottish Golf Ltd. (SGL).
Both Scottish and International delegates from the golf industry enjoyed presentations by leading educators, including Ronnie Malcolm (Leadership), Helen Bennett (Team Roles) Bill Sanderson (Time Management and Communication) Kevin Fish, CCM (Strategic Planning) and Rick Bond (Problem Solving, Decision Making and Report Writing). Delegates also worked in teams on a case study problem solving exercise throughout the 5 day course.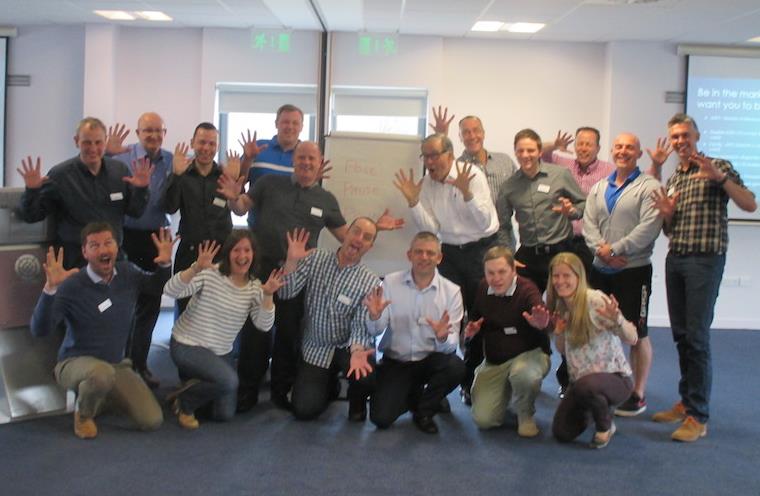 Pictured – The delegates at the MDP 2 programme in Stirling, with key note speak Gregg Patterson
MDP Part 2 is the second course of the European Club Management Diploma which is awarded to delegates who successfully deliver the executive case study set during the week of MDP 2, pass the course test and successfully complete a work based assignment where they take on a problem at their club and resolved it by applying the key learnings from the MDP curriculum. Previous delegates have reported significant savings and efficiencies at their clubs from application of the outcomes from their work based assignments.
Launched in 2011 the highly regarded MDP pathway has been promoted and courses held throughout the UK and Europe. Each course delivers top class education to club managers and senior staff on all 10 Core competencies of modern club management.
This latest week long course was underwritten and hosted by SGL, who firmly believe that progressive CPD will contribute to the continuing growth and development of clubs and golf in Scotland.
Kevin Fish CCM, Club Services Manager for SGL, said of the course,
" Over one hundred Scottish golf clubs have now attended the MDP 1 course covering club operations and the vast majority of those have returned to MDP2 to develop their knowledge and secure a qualification that shows their employers and club members that they know their stuff. Gradually, these managers are changing the perception of club management in our country and are working tirelessly to secure the futures of their clubs through continuous professional development. I take my hat off to them and to their club committees for supporting them, demonstrating such great leadership in our industry. "
The MDP pathway was originally developed by the Club Managers Association of America and thanks to their vision and generosity has been given to CMAE who have adapted the materials for the European Golf, Sports and City Club Markets.
For more information about CMAE and its MDP Pathway visit: www.cmaeurope.org