A Management Development Programme part 1 course was successfully hosted in Central London recently.
A Management Development Programme part 1 course was successfully hosted in Central London recently.
26 delegates from City, multi sports and golf clubs in the UK, Russia and Bermuda attended the 5-day course which took place at the Victory Services Club and the Caledonian Club in London from the 17-21 July 2017 and was the first MDP course to be held in the English Capital.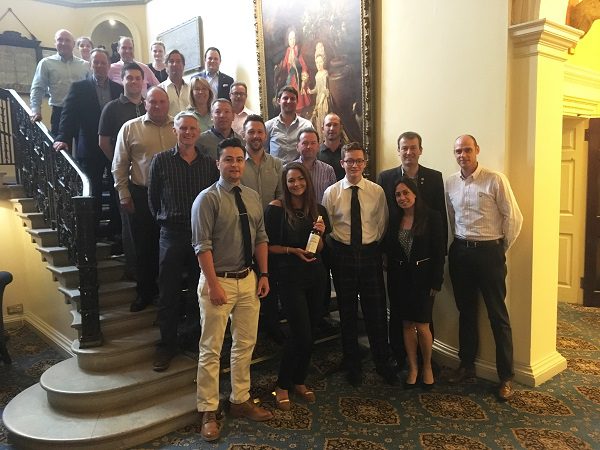 Pictured – the delegates at the MDP 1 in London
The course focused on the 10 core competencies of running a club successfully and featured sessions presented by Darshan Singh on Management to Leadership, Steven Brown on Food & Beverage, Rod Findlay on Club Legislation, Duncan Ritchie on Club Financial Management, Tory Brettell on Operations Excellence, Bill Sanderson on Marketing in Clubs, Steuart Fotheringham on Health & Safety, Kevin Fish CCM on Club Governance and Michael Braidwood CCM on Facilities Management and Career Development.
During the week delegates were also treated to a City club tour of Brooks's and the Royal Automobile Club and enjoyed a dinner at the In and Out (Naval and Military) Club, giving them a taste of the exemplary service and history behind some of London's private member clubs.
Speaking of his experience of the MDP 1 course, James Fuller, General Manager of Gog Magog Golf Club said: "MDP1 allowed me to do so many things. It allowed me to meet likeminded professionals. It allowed me to reinforce my skills as well as learn new ones. Most of all, as was pointed out to me, it allowed me to spend a week on myself. That hasn't happened for a long time, so thank you".
David Balden CCM, Chairman of the CMAE London & Home Counties Region commented "We are delighted by the success of the first MDP 1 course to be held in London. Demand for the MDP in England is clearly growing with our courses in both London and Warwick earlier this year being a sell-out. This is due to the quality of the education along with the exceptional testimonies provided by the delegates. We are already taking bookings for our next MDP 1 course in Warwick next January".
MDP part 1 is one of 5 courses on the CMAE's Management Development Programme designed to help club management professionals excel in their jobs and develop their careers.
For more information about the Management Development Programme click here