Ljunghusen Golf Club, Höllviken, Sweden, became the first club to achieve the renowned global eco-label, GEO Certified®, six years on, July 2015, they have now become the first club to have been twice re-certified.
In June 2009 Ljunghusen Golf Club, Höllviken, Sweden, became the first club to achieve the renowned global eco-label, GEO Certified®, six years on, July 2015, they have now become the first club to have been twice re-certified.
Ljunghusen, one of the oldest golf clubs in Sweden, and the first to have 27 holes, was founded in 1932 and is a true links course. The club is located in a nature reserve and is just a few meters from the Baltic Sea's white sandy beaches.
GEO Certified®, golf's global eco-label is an independently verified and publicly reported standard which recognises clubs that show environmental stewardship, resource efficiency and community value. The certification is administered and assured by GEO (The Golf Environment Organization), the not-for-profit group dedicated to sustainability in the golf industry. The standard requires recertification every three years.
Re-certification is carried out by an independent verifier and is dependent on the club showing not only continued commitment to its sustainable practices but also enhanced improvement to sustainable management. Ljunghusen Golf Club was first re-certified in July 2012, and following the passing of another three years this latest re-certification makes it the first club in the world to have been twice re-certified.
Ljunghusen has shown commitment and innovation in implementing sustainable operations across the course and clubhouse over many years. One major project has been the renovation of the clubhouse in 2008. Strong consideration to resource efficiency within the redevelopment led to passive design solutions and a focus on renewable energy. Although the clubhouse doubled in size during the renovation the installation of a large-scale ground source heat pump led to a reduction in annual fuel bills by €40,000.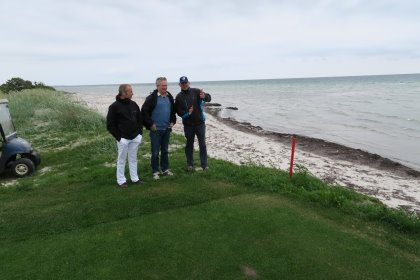 From left: Magnus Jivén, General Manager; Mårten Wallberg, GEO verifier; and Lars Knutson, Course Manager photographed by the Baltic. Ljunghusen is struggling with erosion problems
A selection of highlights noted in the verifier of this most recent GEO Certified® achievement include:
Exceptional management of diverse landscape within a nature reserve featuring links, dune, heathland and low-lying wetland habitats;
Use of 100% renewable source electricity after a switch in electricity supply contract in 2013;
Reduction in diesel consumption by almost 25% after the introduction of electric golf carts and hybrid power greens mowers;
An on-site geo thermal ground source pump heats the clubhouse and provides ventilation in the kitchen;
A reduction in electricity consumption by around 4000kWh each year since 2012 through implementation of energy efficiency initiatives and modern technology;
Transition to organic fertilisers on the course;
Recycling of food waste from the restaurant into biogas;
An annual audit of waste contractor to maximise recycling and supply chain value;
An active and organised environmental committee with broad communication of sustainability issues;
An open, welcoming attitude to regular community activities and projects; and
Strong collaboration with NGO's, government bodies and other local golf clubs to address environmental issues.
Magnus Jivén, General Manager of Ljunghusen Golf Club, said: "We are thrilled to once again be recognized for our sustainability work by achieving GEO Certified® for the third time. We have seen continual benefits from achieving this coveted standard. Furthermore, GEO's OnCourse™ programme has made it easier to prioritize and collaborate, it is a remarkably efficient programme and a real benefit in tough economic times. We are proud to be part of the programme and will continue to focus for sustainable, environmental development of Ljunghusen GC."
Stefan Lindvall, Chairman of Ljunghusen GC said: "We are very proud to have once again achieved the GEO Certified® standard. Our daily goal is to encourage and enable our members, guests and staff to act in a more sustainable way and to show for generations to come that we have taken care of our unique links course."
Mårten Wallberg, independent verifier, said: "It's always a great pleasure to visit Ljunghusen and talk about sustainable golf club management. The club has a long, genuine interest and engagement in environmental and community work, so I can't wait to see what new initiatives arise over the next few years"
Jonathan Smith, CEO of GEO said: "I am delighted that Ljunghusen, the first club to be GEO Certified®, has once again shown leadership in sustainable golf. The Club has clearly demonstrated the benefits which embedding sustainable practices can bring to a golf course, the business and the local community, and how following OnCourse® and becoming GEO Certified® can support and enable those benefits to be realized. On behalf of the whole GEO team I offer Magnus and his team my sincere congratulations and we look forward to continuing to work with the club in the future".
The full verification reports for Ljunghusen Golf Club's certifications can be found here.
Ljunghusen Golf Club www.ljgk.se
GEO www.golfenvironment.org
OnCourse www.golfenvironment.org/get_involved/clubs