The Joe Perdue Bursary for 2015 is being launched today!
The Joe Perdue Bursary for 2015 is being launched today!
Members will remember the untimely death of Joe Perdue in January this year*. Subsequently the CMAE decided to commemorate Joe's wonderful commitment to education and his invaluable legacy in Europe, the Management Development Programme (MDP) by the introduction of an annual Bursary, administered through the European Club Education Foundation (ECEF).
The Joe Perdue Bursary will provide one award per year to a worthy candidate. The Bursary will cover the cost (up to £1,000) of attendance at a CMAE MDP course in the 2015/16 Academic term.
Counties and Regions, who host CMAE MDP Courses, will be entitled to nominate up to 2 candidates who, they believe, to be worthy recipients of the Bursary. Their nominees will then be reviewed by the Board of the European Club Education Foundation (ECEF), who will announce the 1st Bursary Award winner.
Nigel Cartwright, CEO of the ECEF, said of the launch "we feel this is a fitting tribute to Joe who pioneered club manager education in Europe. We are sure Joe would be proud of such an scheme whereby a worthy candidate who may not have the means to fund their club manager education, will now have the opportunity to attend an MDP course"
CMAE MDP Courses consist of MDP Parts 1 and 2, MDP Golf, MDP Food & Beverage and MDP Strategy and Leadership. Club industry personnel interested in applying for this bursary can do so by contacting their CMAE Region or local Club Manager Association.
The closing date for applications for the 2015/16 academic year is 1st August 2015.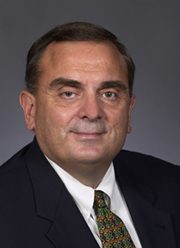 * Joe Perdue, R.I.P.
Since 1986, Joe Perdue had served as Academic Advisor for the Club Managers Association of America (CMAA). He was responsible for the initial development of CMAA's Business Management Institute (BMI) Education Pathway in the US, and subsequently China, South Africa, Europe and Canada. Joe also developed the Certified Club Manager (CCM), a qualification globally recognized as the benchmark of excellence in Club Management.
Here in Europe, Joe was a founder member of the CMAE Education Policy Board, where, thanks to his vision and generosity and that of CMAA, he enabled the development of our own CCM qualification, together with the CMAE Management Development Programme (MDP).
It is true to say: "No Joe Perdue, no MDP" and therefore we all want his name to live on, through this Bursary, in Europe.