Now that your clubhouse is open again, serving food and beverages to your customers in a safe and professional manner will be high on your agenda.
Now that your clubhouse is open again, serving food and beverages to your customers in a safe and professional manner will be high on your agenda. ESP Leisure has been working hard to provide products and services that make this challenge a little easier to deliver.
Our latest addition to the EliteLive product suite is Elite F&B Online Ordering which enables your customers to browse, order and pay for selected items from a mobile device, which can be delivered to a specified location.
The solution is the Elite F&B Online Ordering App which enables organisations to provide a service to customers without the need to stand in a queue to place their order. The process is extremely simple to use:
Open the EliteLive app
Select your Venue
Choose products from your venue's menu
Pay with your credit card or Levy Account.
Alec Fernihough, owner of Gaudet Luce Golf Club in Droitwich, was one of the first ESP customers in the queue to get this timely developed new ESP software product installed. "EliteLive F&B ordering has been a fantastic addition to our App and has allowed our club to provide an F&B service to our customers during a very difficult time. With reduced staffing levels and our club getting busier by the day, providing our customers with the ability to order, pay and get their food and drink delivered is proving invaluable. The added bonus that Members can charge to their Levy account is brilliant. Revenues going through the App are growing on a daily basis and I don't know how we managed before we offered this facility."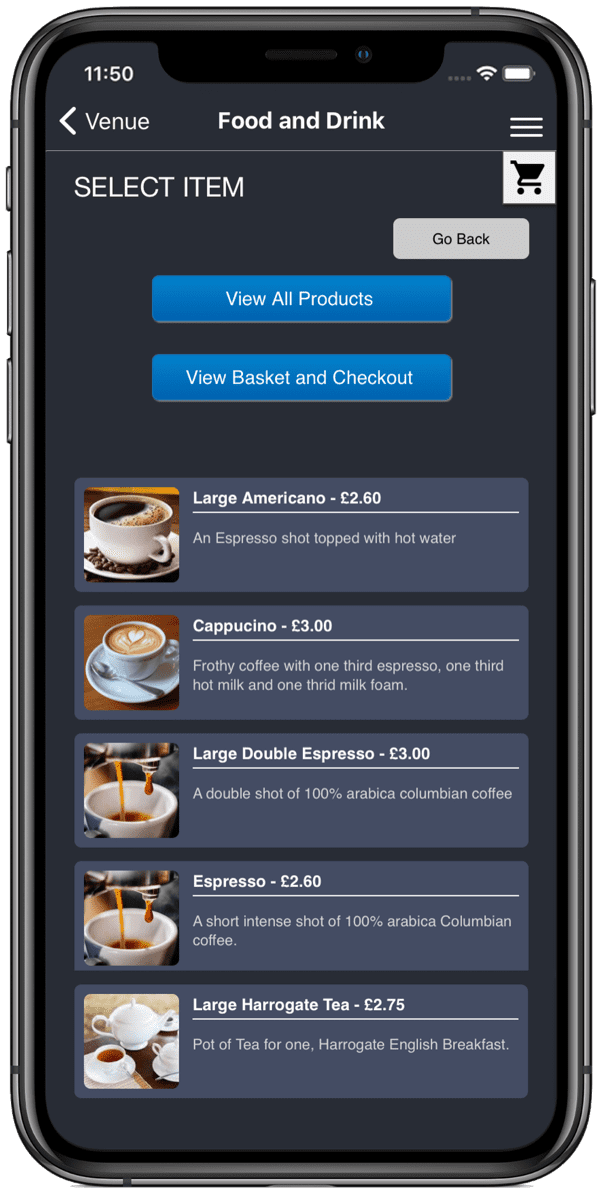 EliteLive App
The EliteLive App is available on both iOS and Android platforms. Your existing members may have already downloaded the app and linked it with their membership profile – the Elite F&B Online Ordering function will be an additional button on the home desktop. Returning Visitors may also have installed the App, but for those that haven't, a simple QR code on your menu or promotional materials will enable them to download and register their profile.
Selecting Venue
The EliteLive F&B Online Ordering App enables products and services to be sold across multiple areas of your business – not just restricted to placing an order in the Restaurant. Customers are able to select which area they wish to be served, and the menu choices automatically adjust to match your offering. This means you won't be serving a full breakfast at the halfway house, nor will you be offering fine dining options to the terrace (although you could if you wanted to). During the checkout, customers will be required to give you a delivery location, such as a table number or bay number.
Your Products
You're fully in control of which products are available to purchase – You decide which products in your menu are available through the App.
You're even able to specify times of the day and days of the week that products are or aren't available. For example, you might only serve alcoholic beverages after 11:00am, so EliteLive F&B Online Ordering won't let customers purchase before then. You're also completely in control of the descriptions your customers see for each product. Within Elite, you define the content and image for each product.
Checkout and Pay
Once your customers have selected the products they want to purchase, the checkout process enables customers to pay using a payment card, or if they have credit on their Levy account, they can use this too.
Delivery
After your customer places their order, your kitchen and drinks printers will produce the order tickets. In addition, a new Order Management screen enables easy tracking of orders being processed.
To find our more get in contact with the ESP team on 0208 251 5100 or email [email protected]