CMAE's Management Development Programme (MDP) Part 1, hosted at the Dubai Creek Golf and Yacht Club last week, was a great success.
CMAE's Management Development Programme (MDP) Part 1, hosted at the Dubai Creek Golf and Yacht Club last week, was a great success.
Thirty four delegates from golf, city, and sports clubs enjoyed presentations by leading educators, including Darshan Singh (Management), Henk Bruggeman (F&B), Susan Stevenson (HR), Alaister Murray (Finance), Michael Braidwood CCM (Membership Marketing) and Jason Koenigsfeld (Governance), along with some practical example sessions from leading Golf Course Superintendent Craig Haldane on Course and External Facilities Maintenance plus Club Insurance expert Lyndsey Paris on Risk. On the Tuesday evening of the week a special education session was organised where leading club operators in the region congregated for a Q and A session – Learn from the Middle East Club Leaders. On the panel were Mark Chapleski (Troon Golf), Chris May (Dubai Golf), Andrew Whitelaw (DAMAK, Trump), Neal Graham (Jumeirah Golf Estates) and Nick Tarrat (European Tour).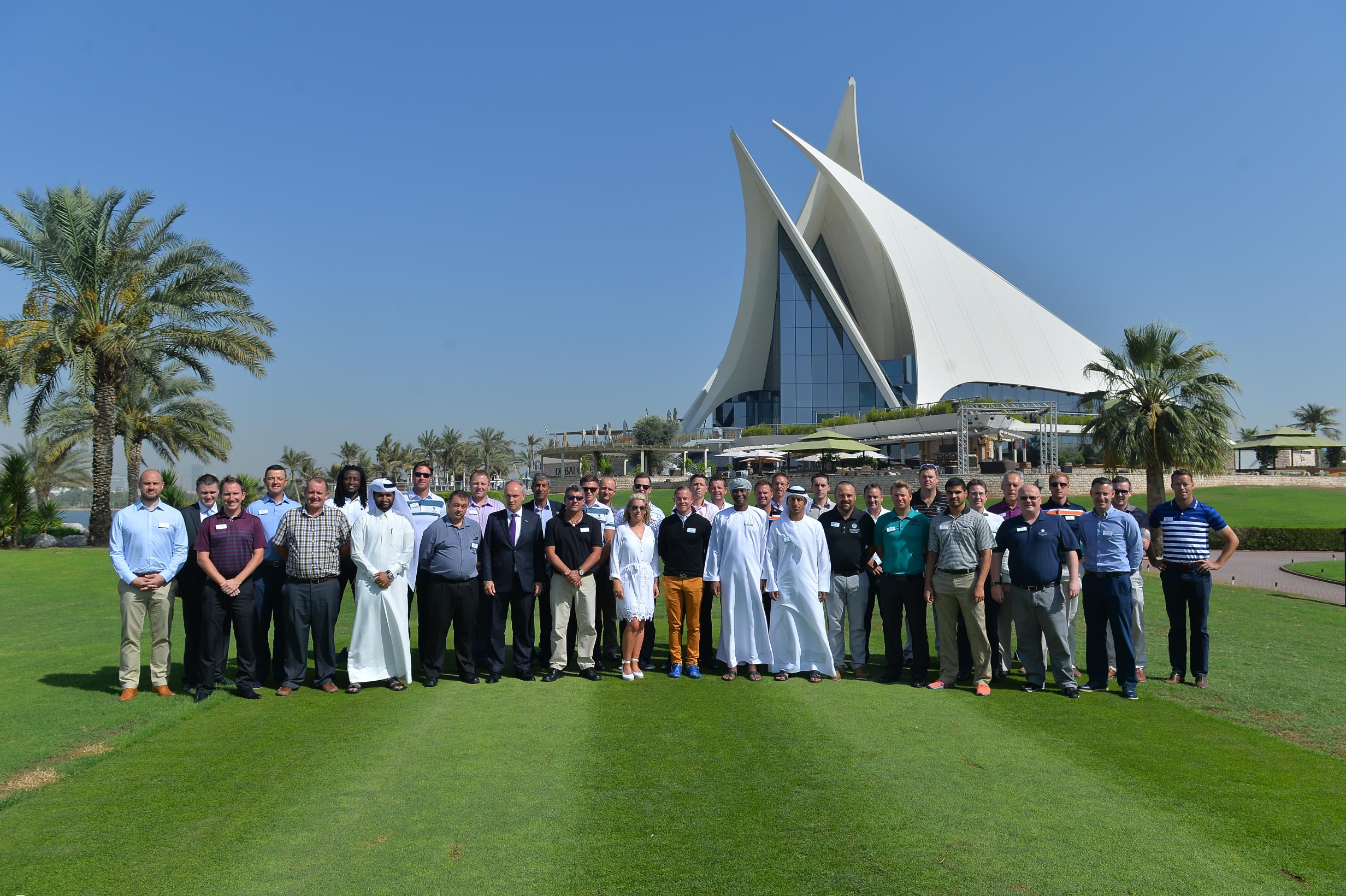 Pictured – The delegates at the MDP programme at Dubai Creek and Yacht Club
This was the first time CMAE has taken the MDP courses to the Middle East and it was astounded by the response, "We have been delighted by the response to the programme here in Dubai; 34 delegates is the highest number of attendees we have had on a course. It just shows how high the demand is for high level club management education. We had delegates from 8 different countries so the networking was phenomenal" said CMAE's Director of Education, Michael Braidwood CCM, who facilitated the week.
Launched in 2011 the highly regarded MDP Pathway has already been held on 43 occasions throughout the UK and Europe and now for the first time the Middle East. The programme delivers top class education to club managers and senior staff on all 10-core competencies of modern club management.
Commenting on the success of the programme, Chris May CCM and CEO of Dubai Golf, which was the host for the programme, said "we are delighted by the success of the MDP here in Dubai. We have had a number of our colleagues travel to Europe to expereince the programme in the past, so we were keen to bring it to Dubai to expose this type of education to a wider audience."
The MDP pathway was originally developed by the Club Managers Association of America and thanks to their vision and generosity has been given to CMAE who have adapted the materials for the European Golf, Sports and City Club Markets.
For more information about our Management Development Programmes click here