Two years on and the De Vere Club continues to thrive after challenging the notion of traditional golf club memberships
De Vere is celebrating the second anniversary of its pioneering membership scheme, the De Vere Club, which has experienced remarkable success since being launched by Honorary Captain Peter Allis in March 2010. De Vere has changed the way modern golfers look at golf club memberships with a unique approach that has been championed for its flexibility and affordability. The Club offers golfers the chance to play 16 premium golf courses at 11 De Vere venues across the UK, for an initial payment of just £295 and includes Championship layouts such as Slaley Hall in Northumberland and The Carrick on Loch Lomond. In just two years the De Vere Club has received backing from sporting legends Andrew "Freddie" Flintoff and Harry Redknapp, as well as TV golf personality Sophie Horn, to become the fastest growing golf membership in the country.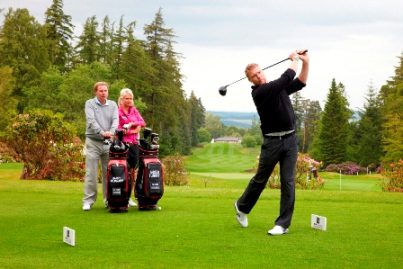 De Vere Club Ambassador Freddie Flintoff tees off watched by Harry Redknapp and Sophie Horn
Daniel Hodson, De Vere's Director of Golf, Leisure, & Spa, commented, "The 2nd anniversary is a significant milestone for the De Vere Club. At a time when golf memberships across the country are static or declining, it's great for us to be able to offer amateur golfers an affordable way of becoming members at some of the best courses in the country. Back in 2010, we felt the time was right to create a ground-breaking new model to help golfers whose needs weren't being met by the traditional style of club membership. Two years on and the De Vere Club has exceeded our expectations with golfers responding well to the offer of diversity and affordability. Adding spa treatments to the De Vere Club has ensured that it has continued to evolve over the last 12 months, and offers our golfers more variety than any other membership."
One of the biggest draws of the system for golfers throughout the UK has been the flexibility of playing 16 De Vere courses, while still offering the advantages of a single club membership. Members are able to nominate a 'home club', hold an official handicap, and play in club competitions, without being tied to a single course. The points based system has meant that the De Vere Club member is free to play their designated 'Home Club', but still travel to other De Vere venues and experience the same benefits as a regular member. With venues all over the UK, including Wokefield Park in Berkshire, European Tour venue Wychwood Park in Cheshire, and Oulton Hall in Leeds, golfers have an enviable plethora of golf courses to play throughout the year. If points ever run out, golfers have the option of 'topping up' and continuing to play as normal.
Members have also benefitted from a whole host of added extras, including discounts on hotel rooms, spa, golf equipment, food and drinks, plus an attractive referral package if they introduce friends and family to the friendly and fun De Vere Club experience.
De Vere's aim has been to change the status quo of the archetypal golf club by creating an attractive social hub and friendly family environment for the 21st Century golfer. Significant investment in recent years has ensured immaculately maintained Championship standard golf courses, as well as stylish clubhouses with exquisite dining, relaxed dress codes, luxurious spas and state of the art golf academies.
For more information on the De Vere Club visit www.thedevereclub.co.uk or call 0844 980 8060.