The Club Managers Association of Europe (CMAE) have officially opened registration for the 2022 European Conference on Club Management.
The flagship event will be held in Costa Adeje, Tenerife on the 5-8 November 2022 and will provide a jam packed programme featuring education sessions, inspiring keynotes and time for networking and enjoying the many sights and activities that Costa Adeje has to offer.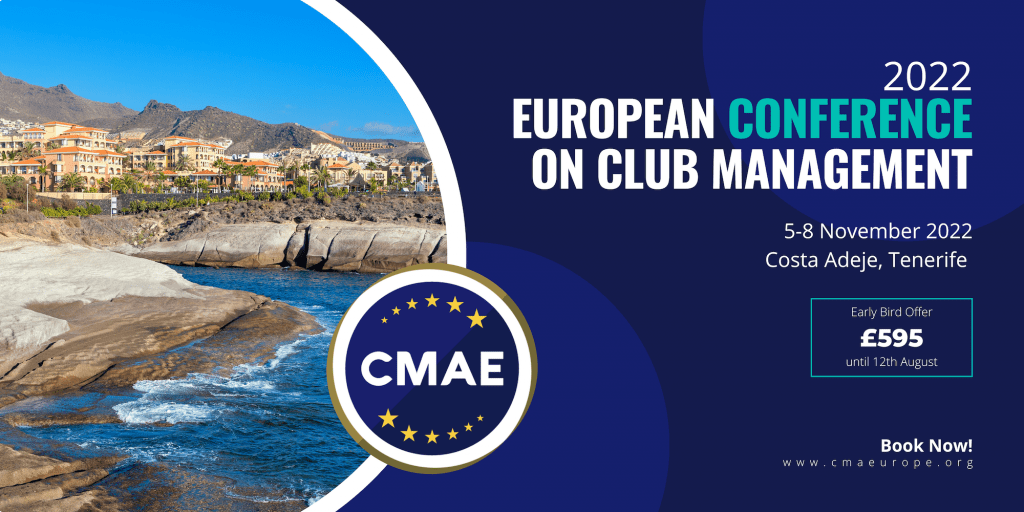 The 2022 European Conference will be the first to be held in person since the Covid-19 pandemic and theme of the conference is all about "Family".
Over the course of the last two years, people's priorities have changed. Some forced on us by the impact of Covid and other simply because we chose to re-evaluate what is most important to us. The common theme in this seismic change has been the return to Family. The one constant for us all during these times has been the love, support, care and understanding that our families bring to us.
So for our European Conference in Tenerife in November 2022 we have gathered great speakers on this theme and beyond. Our goal is to make this Conference one to remember, a celebration, one where you can bring your own Family if possible, where we will do all we can in order for us to enjoy the days in Tenerife as much as possible and bring strength back in body and soul.
"I am proud what we have accomplished in the last two years – having two European Conference in a virtual environment but I am thrilled that we now can properly celebrate our 20 years of existence and 2000 delegates on our programmes and much more, comments the Director of Education Torbjörn "Toby" Johansson. There is time for everything – now is the time to gather the CMAE Family for Education, Networking and Fun!"
We cannot wait to welcome you all back to a Live and in person European Conference. The CMAE Family awaits you in November!
For further information on the conference please visit https://www.cmaeurope.org/news-events/euro-conf-2022/