Highest scoring subject in renowned Management Development Programme (MDP) now available to both individuals and teams in the Club world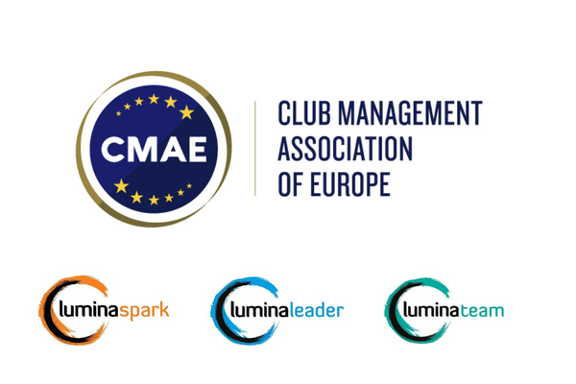 The extraordinary success of Lumina's personality development coaching within the MDP, is behind The Club Management Association of Europe (CMAE) decision to make it internationally available.
Lumina is a world-leading provider of psychometrics which bring self-awareness to your personality and leadership style. It is consistently the top rated topic on the Management Development Programme.
CMAE is the international leader in delivering the highest level of education to Club Managers
Combined, Lumina and CMAE delivers a unique, easily accessible, resource to every Club Manager.
The full suite of Lumina profiling is now to be delivered by CMAE for both individuals and teams online or in a club environment.
Lumina Spark:. Equips you to cope better under pressure.
Lumina Leader Show how to lead with confidence and authenticity,
Lumina Team. Delivers motivated people working in high performing teams which get better results.
CMAE; the perfect provider to focus this resource directly and specifically to the demands of Club Management
Jeff Fallon, General Manager at the The Royal Dublin Golf Club commented "Lumina Spark provided genuine insights on my preferences, behaviours, and communication styles. I now better understand how I perceive the world and how others perceive me. This is invaluable when interacting with colleagues "
Iain Russell, Club Manager at East Renfrewshire Golf Club said "I have been extremely fortunate to have participated on two Lumina sessions with Toby Johansson.
The sessions were extremely insightful and accurate and also such a positive experience.
I now reflect on ways of continually improving areas I am strong in, as well as areas I can improve and grow
Commenting on the Lumina Team was CEO and Lumina Practitioner Toby Johansson "I am looking forward coming out to Clubs and to delivering Lumina Team with the Management Team or the full team at the club. It is perfect for 8-25 people.
I am happy to also do personal Spark & Leader portraits which are so successful on our globally recognised MDP 2 and MDP 3.
This is a way to get to know a part of what we offer, while at the same time getting to know yourself better as well as your team."
Lumina profiling will be conducted by CMAE's CEO Torbjorn "Toby" Johansson who is part of a global network of Lumina practitioners. Kevin Fish, CCM and Daniel Asis, CCM are also Lumina Practioners and ready to deliver to clubs. For further information contact [email protected]