The Club Management Association of Europe (CMAE) is pleased to announce a partnership with Marriott International, a global leader in the hospitality industry. This groundbreaking collaboration aims to enhance the educational offerings of the CMAE by utilizing Marriott venues to deliver its renowned Management Development Program (MDP) Pathway.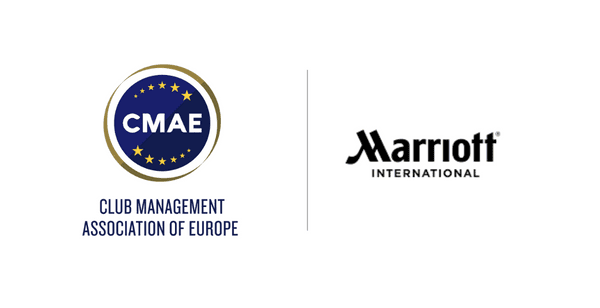 The CMAE is widely recognized as the leading professional organization for club management in Europe, providing education, training, and support to club managers and industry professionals. With its commitment to advancing the standards of club management, the CMAE constantly seeks opportunities to expand its educational resources and deliver quality learning experiences to its members.
Marriott International is renowned for its extensive network of luxury hotels and resorts, spanning across the CMAE's territories. By partnering with Marriott, the CMAE gains access to a diverse range of world-class venues, offering unparalleled opportunities to deliver a consistent experience to club managers on the MDP Pathway.
The MDP Pathway is an industry-leading educational program designed to equip club managers with the knowledge and skills necessary to excel in their roles. With a comprehensive curriculum that covers the eleven core competencies of club management, including leadership, finance, operations, and member experience, the MDP Pathway empowers professionals to navigate the ever-evolving challenges of the industry.
Through this partnership, CMAE members will benefit from the exceptional facilities, personal benefits and resources provided by Marriott International. These venues will serve as dynamic learning environments where participants can engage in interactive workshops, gain hands-on experience, and network with industry experts.
Commenting on the partnership, Craig Cotterill, Commercial Director of the CMAE, stated, "We are thrilled to join forces with Marriott International to elevate the learning experience for our members. This collaboration represents a significant milestone for the CMAE and reinforces our commitment to delivering exceptional education and training experinces. We are confident that the resources and expertise provided by Marriott will enhance the value we offer to our members and contribute to the continued professional development of club managers across the UK, Europe & MENA."
Naomi Martin, Account Director at Marriott International, stated, "Marriott Hotels International are delighted to announce our joint partnership with the Club Management Association of Europe. We will be supporting the organisation with their accommodation and venue requirements, with a vision to enhance their delegate experiences whilst delivering their educational programmes across Europe. Offering the most powerful portfolio in the industry, our 31 brands and 8,500+ properties across 138 countries and territories will give CMAE members more ways to connect, experience and expand their world."
The partnership between the CMAE and Marriott International represents a powerful synergy between two industry leaders, both driven by a shared vision of delivering excellence through education. Together, they will inspire and equip club managers with the skills and knowledge needed to elevate the standards of the industry across Europe.
For more information about the Club Management Association of Europe and the MDP Pathway, please visit https://www.cmaeurope.org/