Scotscraig Golf Club the 13th Oldest Golf Club in the world have announced the appointment of Derek McKenzie CCM as their new General Manager starting on the 17th of April.
Scotscraig Golf Club the 13th Oldest Golf Club in the world have announced the appointment of Derek McKenzie CCM as their new General Manager starting on the 17th of April.
Club Captain John Rankin said "this is a significant appointment in this our historic Bicentenary year. Members will welcome Derek as the new General Manager and the man who will steer Scotscraig Golf Club into it's 3rd century! Derek comes with international business, marketing experience, very well qualified and also has a solid golfing pedigree all of which augurs well for the future."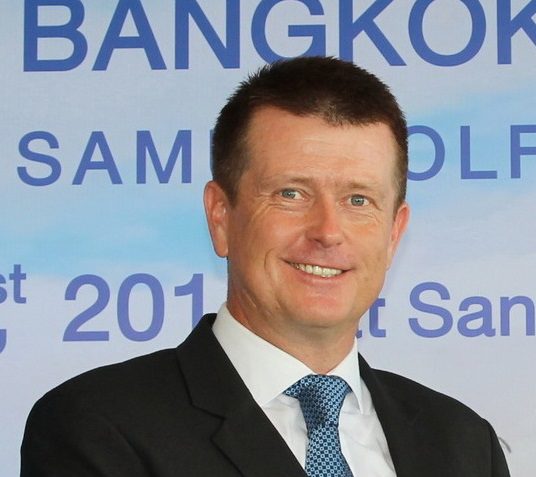 Derek McKenzie CCM
Derek McKenzie was born and bred in Elgin, Moray, in the north of Scotland and after representing Scotland at Under 15 and Schoolboy level embarked on the pathway of PGA professional at Forres GC, Banchory GC and then down to Ayrshire to the Brunston Castle GC as Head PGA Professional.
The horizon widened as his career continued to Germany, Egypt, Spain, Thailand and finally Chippenham in Wiltshire. The last fifteen years his career moved into golf management and included completing a degree course in Leadership and Management and also the highest association award of Certified Club Manager (CCM) through the Club Managers Association of Europe, which he achieved in 2014.
During his time in Thailand he was able to compete on the Asian Development Tour, Asian Tour and even once on the European Tour at the Dubai Desert Classic with the likes of Tiger, Rory and Stenson.
Derek has now realised his and his family`s dream of returning to Scotland and he could not be more delighted to have the chance to work for Scotscraig Golf Club and be part of their double century celebrations.
Other CMAE Certified Club Managers who have recently moved jobs are Arnaldo Cocuzza CCM, a Club Manager from Italy and the Past President of CMAE who last year landed a dream job as Director of Club Operations at Charlotte Country Club in the USA, Richard Pennell CCM who was appointed Club Secretary at Woking Golf Club in Surrey, England, David Gemmell CCM who recently became the General Manager at Turnhouse in Edinburgh, Scotland and David Balden CCM who was recently promoted to Club Secretary at the Caledonian Club in London.
Speaking of how the CMAE's Education Pathway and CCM certification has helped them in their careers, Richard Pennell said: "I joined the CMAE in 2008, following a strong recommendation from Colonel John Hunt, Past President and at that time Secretary of The Berkshire Golf Club. Since then the education and networking benefits that the Association has provided has enabled me to continue to grow both professionally and personally, and the skills I have learnt, along with my CCM accreditation, have enabled me to ensure that the technical aspects of my CV stand out in a competitive industry. Being involved with the London & Home Counties Region Board added another string to my bow, and without the CMAE and the financial support of two open-minded and supportive managers, I would simply not have been in the running for the job I have just landed! As the Secretary of Woking Golf Club, I will continue to support the Association as they are without doubt the strongest educational resource that a Club manager can tap into. Thank you CMAE!"
Arnaldo Cocuzza also said: "Since I joined CMAE one of my goals was the certification. I perceived that the value of this recognition could have different professional advantages. With the exclusion of what I have learnt and put into practice (which is huge), what recently resulted the most valuable for me was the consideration of CCM status during the US working visa petition process. The CCM certification is one of the most rewarding professional achievements!"
David Balden added: "I discovered CMAA on a month-long work visit to Cherokee Town and Country Club in 2001 and was enthused by a program by Club Managers for Club Managers. On returning to the UK I was delighted to see the birth up of CMAE and was one of the first attendees at an MDP in Stirling which led in time to sitting the CCM exam in 2008 and being one of the first Club managers in Europe to successfully gain the CCM distinction. I have always found CMAE to be a source of education and comradery within club life and have been an active part for many years and am currently Chair of the London and Home Counties Region, sit on the EPB and main European Board".