Ladies European Tour star introduces love.golf, the pioneering social coaching programme, to staff at Syngenta's global headquarters in Switzerland
The 2015 European Solheim Cup Captain and Syngenta Golf Ambassador Carin Koch hosted a memorable golf experience for 48 new players when she took part in the company's staff golf day in October.
While experienced golfers took to the fairways at Golf du Rhin, close to Syngenta's global headquarters in Basel, Switzerland, Carin and a team of four PGA Professionals handed the new players an iron and a putter each and led them straight to the venue's short course for their first experience of golf.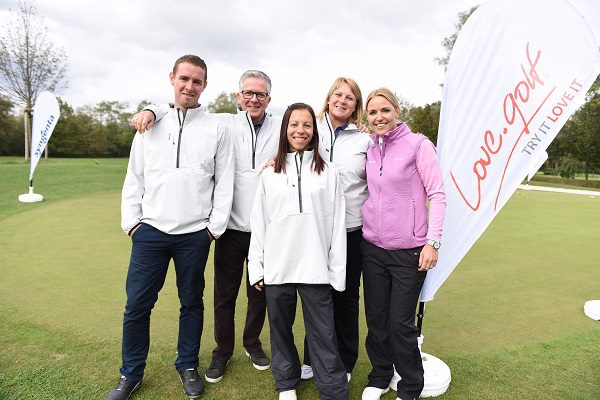 (L to R: love.golf coaches Ollie Rush, Alastair Spink, Jil Luthringer and Nicola Stroud with Carin Koch)
The introductory session followed the principles of love.golf, the pioneering, social group coaching programme for women, supported by Syngenta, that primarily focuses on learning by playing on the golf course, rather than the practice range.
"While love.golf has been designed specifically with women in mind, it's actually a great way for anyone to learn the game and it was nice to see male and female work colleagues getting out on a course and enjoying their first taste of golf," said Carin.
"While many non-golfers perceive golf to be difficult to learn and the golf club atmosphere intimidating, we were able to demonstrate how inclusive, informal and enjoyable golf can be when shared with friends or colleagues. I have no doubt that from the group of 48 new golfers, a good number will go on to become regular players."
Syngenta is one of the world's largest agricultural companies, employing 26,000 people in more than 90 countries. It is also a leading supplier of specialist turf solutions to golf courses globally and is investing in golf from the ground up, committed to a goal of 'Unlocking Golf's True Potential.'
Simon Elsworth, Syngenta Head of Turf & Landscape EAME, said: "Syngenta's golf business benefits from the company's annual $1.3 billion investment in research and development, including the world class science that our colleagues in Switzerland play such an important role in.
"However, our investment in golf goes beyond solutions to enhance golf course playability; we're committed to growing the game, using our research and development approach to create innovative, customer focused solutions that drive sustainable golf course businesses.
"love.golf is an example of this and we were pleased that Carin was able to come to Switzerland and share her passion for golf with colleagues at what was a memorable, social and enjoyable golf day."
For more information about Syngenta's golf initiatives, visit www.unlockinggolfstruepotential.co.uk