CMAE's European Club Management Diploma has now been awarded to over 100 Managers, with 47 Diplomas gained during this 2014/15 term.
CMAE's European Club Management Diploma has now been awarded to over 100 Managers, with 47 Diplomas gained during this 2014/15 term.
CMAE reports that the most recent Diplomas went to participants in Management Development Programmes (MDP) Part 2 held in Bournemouth, Stirling, Rome and Madrid during the 2014/15 term.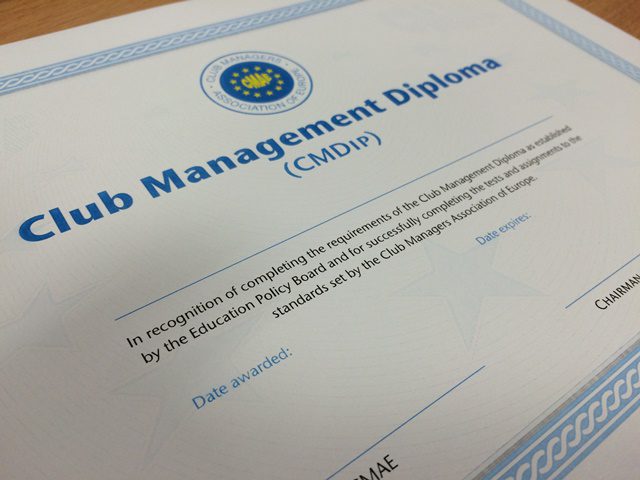 The Club Management Diploma is available to all CMAE delegates who attend our MDP 1 and MDP 2 courses, then pass the multiple choice exam on the 10 core competencies of a modern club manager, successfully fulfil the obligations of the group executive case study, including a presentation to a 'Board' on their findings and finally submitting and passing a work based assignment of 1,200 – 2,000 words on a situation at their club that they have resolved using the strategic management tools learnt during the two programmes.
Since its launch in 2012 there have now been over 100 recipients of the Diploma. The Diploma is valid for 5 years and in order to maintain this status, CMAE members must continue to invest in their professional development and obtain 120 continuous professional development (CPD) credits during that 5 year period.
Commenting on this success, CMAE's Education Policy Board Chairman Kevin Fish said "we are delighted that as a result of these programmes club industry professionals are now securing the Diploma. Their focus and dedication gives their clubs confidence, ensuring that the industry is in good hands with well-qualified professionals at the helm. It is great to see the MDP programme and diploma qualification spreading across Europe, with Italy now generating its first qualified managers with the CMAE Diploma."
The MDP pathway was originally developed by the Club Managers Association of America and thanks to their vision and generosity, has been given to CMAE who then adapted the materials for the European Golf, Sports and City Club Markets.
The diploma recipients for the 2014/15 term were –
Bournemouth
Lee Andrews Mid Sussex Golf Club, Gabrielle Boase Datchet Water Sailing Club, Jose Calvo-Sotelo Golf Legend Spain, Vincenzo Cupello Hurlingham Club, Dominic Dyer Links Country Park Hotel and Country Club, John Hall Tewkesbury Park Hotel and Country Club, Les Howkins Richmond Golf Club, Phil Jones Dreamland Project Azerbaijan, John Maguire Richmond Golf Club, Tristan McIlroy Roehampton Club, Angel Moreu Golf Legend Spain, Frankie O'Donnell Caledonian Club, Ed Plunket Boodles, Graham Rolland Wycombe Heights Golf Centre, Laura Rushby England Golf, Andrew Smith Mid Sussex Golf Club.
Stirling
Audra Booth Club Golf, Robert Brewer Royal Wimbledon Golf Club, Jim Burns Stranraer Golf Club, Colin Fairweather Kirkintilloch Golf Club, John Forbes Muir of Ord Golf Club, Jim Halley Prestonfield Golf Club, Gavin Kinsella Royal Mid Surrey Golf Club, Cathy Kobiela Pitreavie Golf Club, Jacky Montgomery Dunbar Golf Club, Andrew Munro Elie Sports Club, Steven Munro UAEPGA, Maggie Paterson Gourock Golf Club, Nigel Scott-Smith Lenzie Golf Club.
Rome
Stefano Boni Golf Club Tirrenia, Alessandro Cardini Tarquinia Country Club, Dario Colloi, Donato De Angelis Casentino Golf Club, Sandro Maistrello Royal Golf La Bagnaia, Giulia Morandini Golf Lignano, Matteo Niglio Terre dei Consoli, Ascanio Pacelli Terre dei Consoli, Andrea Signor Cansiglio Golf Club, Carlotta Simoncello Brolo Bassano Golf Club, Wilma Sturaro Padova Golf Club, Riccardo Tirotti Marco Simone SSD.
Madrid
John Barrett Riyadh Greens, Miguel Lourenco Portugal, Juan Marcos Galante Salamanca Golf, Alberto Diaz Padilla Greenfinity, Lidia Munoz Perez La Finca Golf, Jose Ignacio Vidosa Flores Race Jarama Golf Club.