The Team at Hirsala Golf are recognized as Champions of the Green for October. This is an acknowledgement of the considerable work undertaken to integrate sustainable practices across the facility, from course to clubhouse and for the benefit of players, staff, community and business.
Since development, Hirsala Golf has embraced their position as part of the local community. Their longstanding focus on using sustainability principles to uphold their environmental responsibilities has resulted in a better overall golf environment. In 2014, Hirsala Golf became the first club in Finland to achieve GEO re-certified® and the independent re-certification report further supports their commitment to sustainability, stating:
"The club is committed to a holistic and environmentally sustainable manner of operation, more so than simply ticking boxes. Thinking and acting within the GEO guidelines and sustainable development is much more than a project in Hirsala, it is the basic way of life."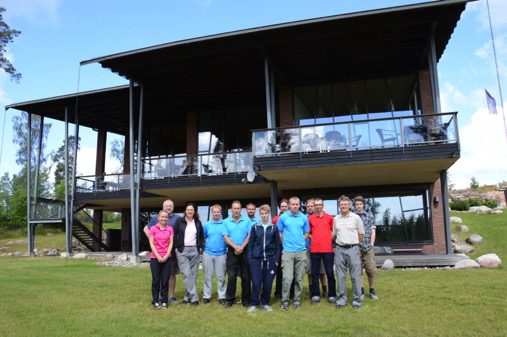 Hirsala Golf Green Keeping Team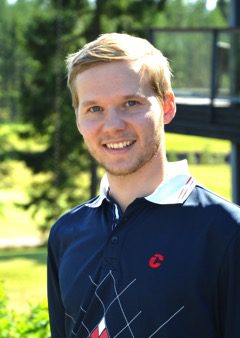 Esa Hukkanen

The club's success in this area has been a collective effort with the team building on work originally started by Astrid Venäläinen, Managing Director, who was instrumental in the club first becoming GEO Certified® back in 2010. Course Manager Jukka Silventoinen, and Esa Hukkanen, Customer Service Manager have taken on key roles in continuing to drive the programme forward. Hukkanen has been the Customer Service Manager at Hirsala for three years and as a former greenkeeper and caddie master he has been able to bring together his knowledge of the needs of players and the challenges for greenkeepers in his role at Hirsala.
Hukkanen explained: "Becoming GEO re-certified was very important to us. We saw a great benefit to being GEO Certified® leading up to and after first gaining the ecolabel in 2010 and the benefits of operating in a more sustainable way have continued. Through using the OnCourse® programme we were able to put systems and initiatives in place which have continued to provide added value not only to the business but also the experience of our customers and our staff. We see this value through economic and environmental gains but also through increased moral in our team, working towards a common goal, and increased respect and recognition from our customers and the community for our work in this area. We regularly use newspaper articles and social media to engage and inform the public about our sustainability work and these communications are positively received and have helped to cement a positive view of the club."
One of the key initiatives that Hirsala Golf has put in place is a robust course water management system. Irrigation water comes from the club's own reservoirs and consists mainly of rainwater, and a sophisticated irrigation system allows for very fine control of turf condition. This system has allowed the club to save water and energy in the varying climatic conditions in the area. Water quality monitoring has indicated that measures on the course are actually improving the quality of the surrounding water resources.
For more information on the sustainable management processes in place at Hirsala Golf Club, visit:
http://www.golfenvironment.org/directory/184_hirsala_golf
To find out more about what OnCourse® and GEO Certified® can do for you click here: