Golf Estates Welderen and Bleijenbeek in the Netherlands, and their greenkeeping teams, both lead by Head Green Keeper, Ronald van Os are recognized as December's Champions of the Green for their outstanding work in both protecting and enhancing nature.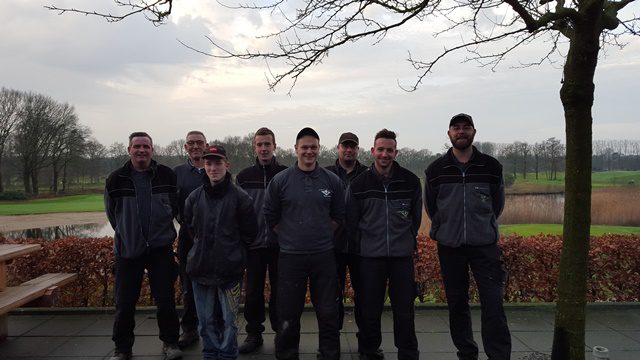 Located in southern Netherlands Welderen and Bleijenbeek together make up the Golfen Op Een Landgoed management group. Both courses hold GEO Certified®, golf's sustainability eco-label. Welderen was first certified in 2010 and re-certified in 2014 while Bleijenbeek was certified in 2011 and re-certified in 2015. In becoming re-certified both clubs have shown continuous improvement and an ongoing commitment to nature protection, resource efficiency and providing positive community value.
Golf Course Welderen has created specific habitats within its grounds to actively increase the biodiversity in and around the course. Regular, careful monitoring of both flora and fauna across the course ensures the club and community are aware of the wildlife in the area and able to identify any patterns of change to measure the success of initiatives to protect and increase biodiversity. The rare Rhinoceros Beetle is frequently found on the course and piles of wood chip are placed to provide them with shelter. Kingfisher and Reed Warblers are commonly reporting in the annual bird watching day carried out on the course, an initiative of the Netherlands Golf Federation (NGF).
Golf Course Bleijenbeek is undergoing a programme of removing non-native species from its woodlands, allowing for the reintroduction of native species comfortable in the local climate and providing natural habitat for native wildlife. The club is also working with local students to reintroduce the endangered, native, spadefoot toad. A robust Nature Management Plan underpins the clubs current and future work. This includes the introduction of restricted access areas called Eco-zones as well as grassland areas grazed purely by sheep.
Ronald van Os explained, "Protecting nature is very much a priority to us. Golf and nature are intertwined, they go together hand and hand and we recognise our responsibility as stewards of the land, to not only protect but, to encourage that nature. We've found our members and visitors have been very interested in the work that we do to protect and reintroduce our native flora and fauna and both clubs share information about the courses wildlife through information boards across the course and in the clubhouse, as well as on our website and in newsletters. The NGF's Committed To Green programme, which was absorbed by GEO OnCourse®, and becoming GEO Certified® have also very much helped us to be recognized for the positive work that we are doing, and will continue to do."
Welderen and Bleijenbeek have also made significant impacts and improvements in water and energy resource management as well as community relations. The group employs local young people with learning difficulties, to work on nature conservation activities around the clubs, which positively builds confidence and provides a valuable service to the communities. The full GEO Certified and GEO Re-Certified reports for both clubs can be found at www.golfenvironment.org/directory

To find out more about what OnCourse® and GEO Certified® can do for you click here: