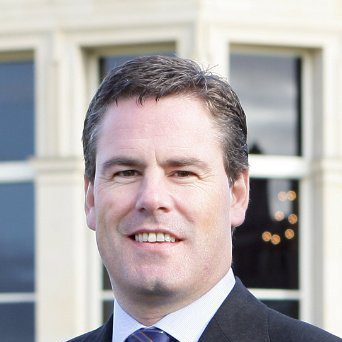 ​The education pathway to CCM has exposed me to top class relevant education which has enabled me to be a better Club Manager. Our association has allowed me to see the value of high standards and good service first hand. I am fortunate to know many great managers and leaders from the club industry from all around the world. These contacts have been built up over many years of attending association events worldwide. The power of the networking opportunities that our association consistently delivers cannot be underestimated.
John is General Manager of Castle Golf Club in Dublin, Ireland. Castle Golf Club is one of the largest private members clubs in Ireland. The Club was established in 1913 and boasts a Harry Colt designed golf course that is consistently rated as one of the best in the country.
John is a qualified accountant. Having completed his training in Dublin, John travelled to St. Lucia with Price Waterhouse in 1990 to work as a manager in their Eastern Caribbean office. John was then head hunted by a large group of companies to be their finance director. He also ran his own business on the island for two years before returning home.
John returned to his native Ireland in 1997 to become Financial Controller of the Gresham Hotel one of Irelands best-known hotels based in Dublin city centre. From there he moved into the club business with Malahide Golf Club on the north side of Dublin. In 2002 John became General Manager of Castle Golf Club, which is one of the most prestigious private clubs in Ireland.
John was one of the original board members of the Irish region of the Club Managers Association of Europe (CMAE). He served on the European board of CMAE from 2005 to 2009 and was President of CMAE from 2007 to 2009.
In 2007, John qualified through as a Certified Club Manager (CCM) through the CMAE, CCM programme.
Married to Siobhán, John has two sons, Daniel and Seán and lives in Dublin.