Unique loyalty strategy striking a cord as golfers pluck up 'Platinum Disks'
Troon®, the leader in upscale golf course management, development, and marketing, has seen one of its UK-managed properties develop a unique strategy that is attracting interest from golfers in the Midland and Northern regions of England. Astbury Hall, developed by famed musician Ken Downing, has just unveiled a new innovative loyalty scheme aimed at moving the club away from the traditional and archaic golf membership rules and regulations. The Shropshire property, a high-end daily fee venue, has introduced the concept of exclusive 'Platinum Disk Holders.' A select number of regular Astbury golfers have been invited personally by Ken Downing to take up the Platinum Disk offer with a view to creating an environment bereft of the strict conventionalism many golf clubs are constrained by.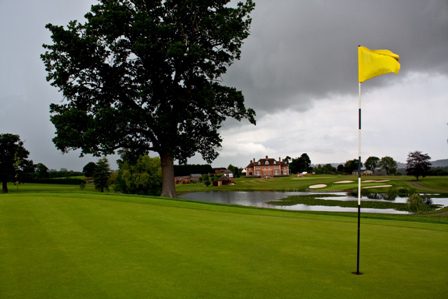 Platinum Disk holders receive a host of benefits, including unlimited golf, social use for partners, money back guarantee and disk-holder discounts on food and beverage. Troon is wholeheartedly supporting the initiative by offering its 'Troon Advantage Scheme' and priority booking access at other Troon facilities to all 'disk holders'.
"Astbury Hall has been created for golfers who love to golf; there is no room for any political golf club wranglings," remarked Downing. "Golf and music are my two passions and I wanted to create something here in Shropshire that gave other people as much pleasure as it did me. The course is open to the public as a high-class daily-fee venue, but I have personally invited a number of golfers to become Platinum Disk Holders and take up a position integral to the club's success and atmosphere," continued the Judas Priest lead guitarist. "We have no committees and no affiliation to the County Union, and remain focussed on delivering a golf course that is in great year-round condition and renowned for being friendly and welcoming to everyone who plays."
The Platinum Disk scheme has initially been offered exclusively to regular users of the venue from 2011. Unsurprisingly at a cost of £1500, the uptake has outstripped forecasts, which is further testament to Ken's innovative approach and hands-on style. With general golf bookings and society days building well for the season, all the indications are that this innovative approach is signaling the way forward for successful golf businesses.
"Astbury Hall is one of the most unique stories in golf and with initiatives such as the Platinum Disk it's easy to see why the property continues to grab headlines," commented Bruce Glasco, Vice-President and Managing Director, Troon International Operations. "When we first visited the property we were amazed at the attention to detail Ken exhibited with the layout, infrastructure and vision. It is a great venue for Troon to be involved with and this new scheme will have other golf clubs sitting up and taking notice of Ken's innovation at Astbury."