Toro is exclusive provider of turf maintenance equipment and irrigation products to Chaska course
Hazeltine National Golf Club, located in Chaska, Minnesota, has utilized its comprehensive fleet of Toro® turf maintenance equipment and irrigation products to help ready the course for the tournament, which will feature professional golfers from the United States and Europe in head-to-head match play competition.
Chris Tritabaugh, course superintendent at Hazeltine National Golf Club, is ultimately responsible for course preparation, and has been preparing for the event for years. According to Tritabaugh, he sees it as an excellent opportunity for himself and his team to showcase the natural beauty of Hazeltine. With preparations coming to an end, Tritabaugh gives credit to his staff of turf professionals and the Toro mowing and irrigation equipment for the pristine course conditions at Hazeltine.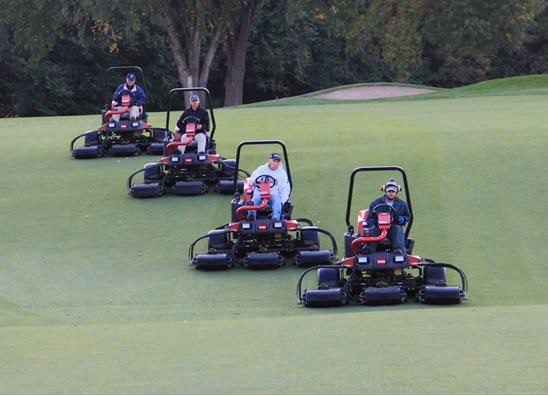 "It's truly a honor to have Hazeltine on the world's stage and host many of today's top professional golfers," explained Tritabaugh. "We couldn't have done it without three things: the hard work from our staff here at Hazeltine, the great relationship with our distributor, MTI Distributing, and top-quality mowing and irrigation equipment from Toro."
According to Tritabaugh, hosting the event has really energized his crew, and the team is excited to have their work on display for the global golfing community. Tritabaugh has been using Toro equipment for a number of years and claims the premium equipment has been essential in preparing the course for the upcoming tournament.
"With our partner MTI Distributing, we are honored to support Chris and his team as they prepare the course at Hazeltine to star on the world's stage during this prestigious event," said Michael J. Hoffman, chairman and chief executive officer of The Toro Company. "We take pride in our long-standing relationship with Hazeltine just as we are humbled to have served so many of the Ryder Cup host courses dating back to the very first in 1927."
The 2016 competition will take place from September 30 – October 2, 2016, at Hazeltine National Golf Club in Chaska, Minnesota. For a look behind-the-scenes at course preparation and other updates, visit the Toro Advantage blog at http://toroadvantage.com/events/ryder-cup/. For more information about the equipment used to prepare the course, please visit www.toro.com.