Sponsored by 3D IFS, CGI Insurance, Comesto, Golf Genius & Toro; 59club's regular accolades reward individual staff performance throughout the year
59club, specialist customer service analysts and training provider, today announce their prestigious quarterly Service Excellence Award winners, as they continue to recognise 'excellence' throughout the year across their affiliate golf venues. The designated UK & European awards focus on four categories spanning Golf Operations, Golf Course, Retail, and the Food & Beverage experience.
The honours saw Brad Gould of The Grove retain his title for delivering 59club's Leading UK & European Golf Operation.
With Andrew Jowett of Gleneagles Hotel, Chris Reeve of The Belfry Hotel & Resort, Gareth Morgan of Long Ashton Golf Club and James Ibbettson of Farleigh Golf Club, all narrowly missing out following a run of very successful audit reviews, as adjudicated by 59club in accordance with its objective benchmarking criteria.
When it came to delivering the best golf course, The Grove had more reason to celebrate as Phil Chiverton went on to achieve 59club's Leading UK & European Golf Course Experience.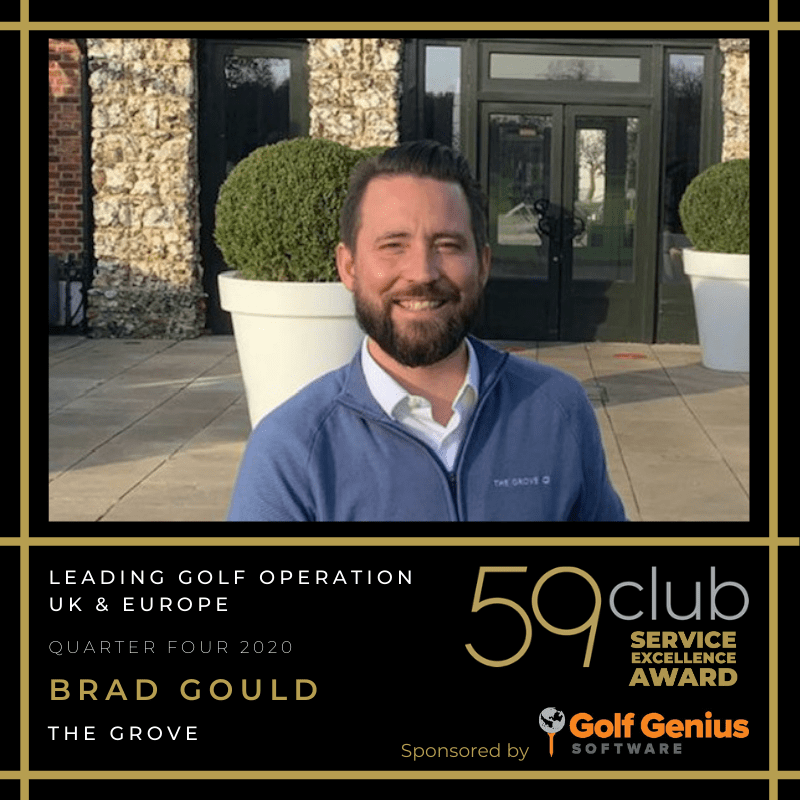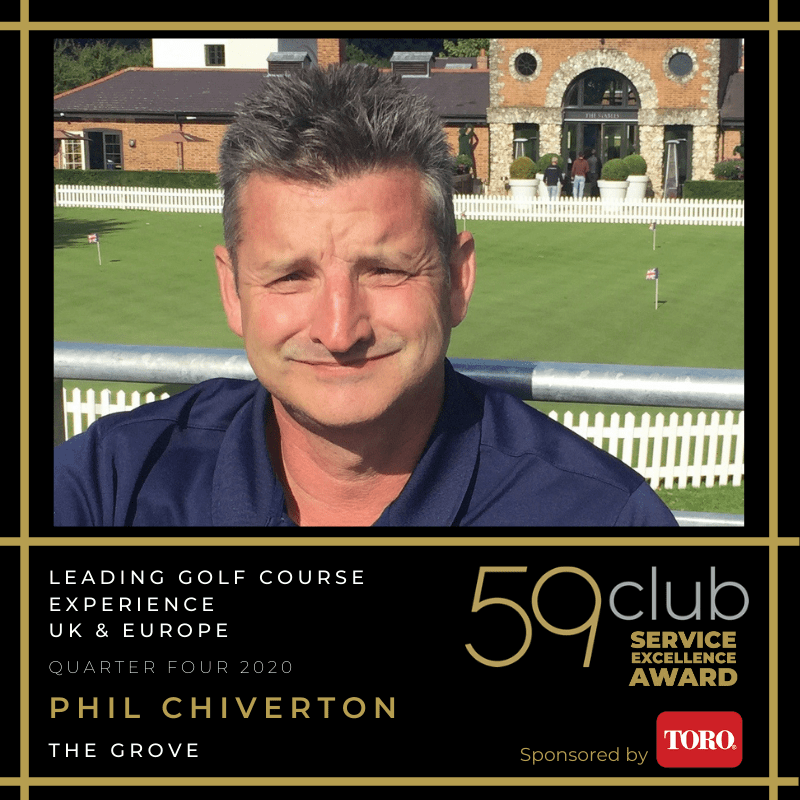 Angus Macleod of The Belfry Hotel & Resort, Gary Nicoll of Panmure Golf Club, Neil Robson of Harpenden Golf Club and Stewart Duff of Gullane Golf Club, were all amongst 59club's top performers across the Leading UK & European Golf Course Experience, each narrowly missing out.
Reflecting on The Grove's success, Anna Darnell, Director of Golf & Leisure said; "To say I'm immensely proud of our team would be an understatement. The passion and determination the team have, and the delivery of this experience to such a high standard through these challenging times is incredible. It's through the 59club visits and the consistently high levels achieved by other venues that continually push us to strive for more and put our focus on improvements in our guest experience and course conditions. In such a trying year we should all be proud of what we have been able to achieve."
Within the Retail category, it was Helen Lavis of Thorpeness Golf Club & Hotel who claimed 59club's Leading UK & European Retail Experience award.
With Alyson Lilley of The Gleneagles Hotel, Dean Rodgers of Royal Mid-Surrey Golf Club, Kenny Monaghan of Stirling Golf Club and Simon Dainty of Stoke by Nayland Hotel, Golf & Spa all identified as leading runners-up within the Retail Award across the quarter.
Commenting on Helen's winning performance, Christine Langford – Director of Golf said; "Helen has worked tirelessly over the last 5 years building the reputation of the pro shop at Thorpeness, in terms of retailing we truly have gone from zero to hero. She has developed some great relationships with suppliers and worked hard to ensure that the pro shop team has the product knowledge and skill sets that enable us to offer members, visitors and hotel guests a retail experience to remember. The pro shop at Thorpeness is only a shed in stature but it has a superstore heart thanks to Helen."
When it came to recognising service excellence delivered within the clubhouse during a golf visitor mystery shopper experience, 59club's Leading UK & European Food & Beverage Experience award was presented to Stirling Golf Club.
With Craig Sutherland of Brora Golf Club, Glenn McNaughton of Long Ashton Golf Club, Josie Swift of Farleigh Golf Club and Leanne Ray of Wexham Park Golf Centre all narrowly missing out on claiming the title.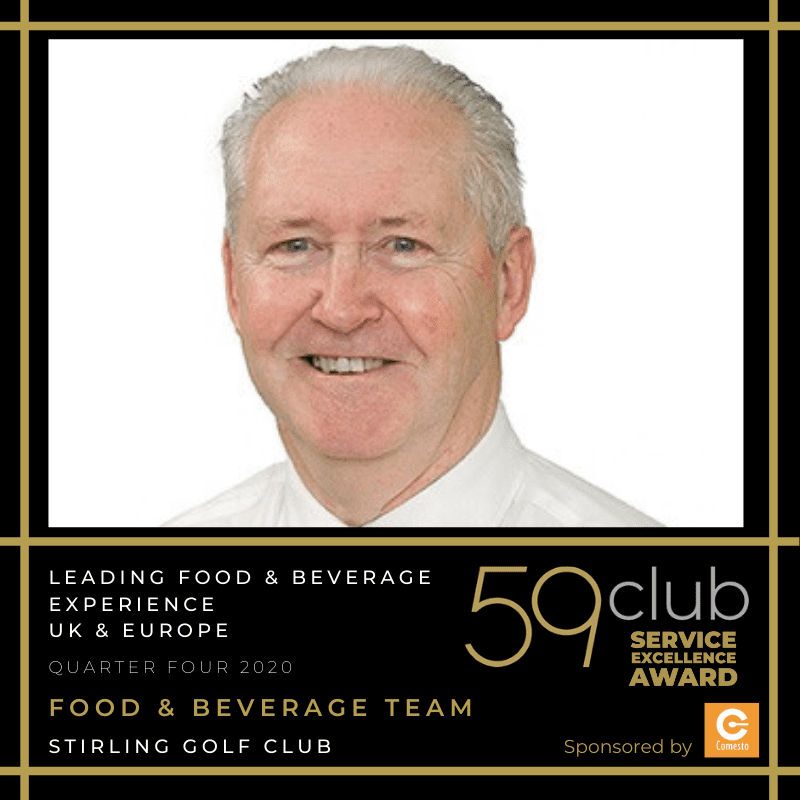 On receiving the accolade, Garry Bowman, Managing Secretary said; "Stirling Golf Club have enjoyed their relationship with 59club and have found the experience extremely positive. It has seen proactive changes in how we manage our booking procedures, and the welcome we afford to our visitors and members. The results have motivated staff and encouraged everyone to think about what they could do better. We will focus on ensuring that all visitors and members are all being treated consistently, and professionally looked after when they contact or visit the club. Going forward, we cannot rest on our laurels and we will build on the lessons learned over the last 3 years which will allow us to return to the standards we have set pre-COVID-19."
Special recognition goes to both Long Ashton Golf Club and Farleigh Golf Club who despite missing out on a victory, were close contenders across multiple awards categories for the Quarter, with Wexham Golf Centre claiming their place as a runner up within the F&B category who were also praised for the quality, value for money and service received across their independent 59club mystery shopper audits for the Quarter.
Commenting on the success of each of the winners and all the top performers, Will Hewitt, 59club UK General Manager, said: "As many of our venues are busy making plans for the high season, and the frenzy that the return to golf will undoubtedly present, it's great to be able to look back and celebrate those individuals and teams who delivered great customer experiences in the final quarter of 2020.
"It is particularly pleasing to witness the 'variety' of clubs vying for awards, it just goes to show how both Private, and Pay & Play facilities, across a wide range of price points can all benefit from the products and services which 59club offer. Our Mystery Shopping analysis is designed to strengthen and highlight staff engagement, hospitality provision and individual passion – the winning formula of customer service – our congratulations go to all those responsible for delivering these exceptional experiences".
59club is the industry's leading customer service & sales analysts and training provider, raising service standards across the golf & hospitality sector to new heights as they gather primary data and implement strategic solutions. 59club's ultimate objective is to transform the revenue performance of its clients by enhancing their approach to customer service and sales procedures. By understanding where strengths and weaknesses lie (using live consumer data), 59club support venues to implement lasting change, to benefit their members, guests, staff and profits.
For more information on 59club, visit: www.59club.com
Stay up to date with all the action, and behind-the-scenes insight by following 59club on Twitter and Linked In