Jim Quinn has recently been appointed as the General Manager at Sutton Golf Club in Ireland.
Jim Quinn CMDip has recently been appointed as the General Manager at Sutton Golf Club in Ireland.
Jim, who has a history in both accounting and I.T, was formerly the Secretary Manager at Black Bush Golf Club for nearly 4 years, before being appointed to Sutton Golf Club just north of Dublin.
Jim is a current CMAE member and CMDip, having completed parts 1 and 2 of the Management Development Programme.
Here we caught up with Jim to ask him some questions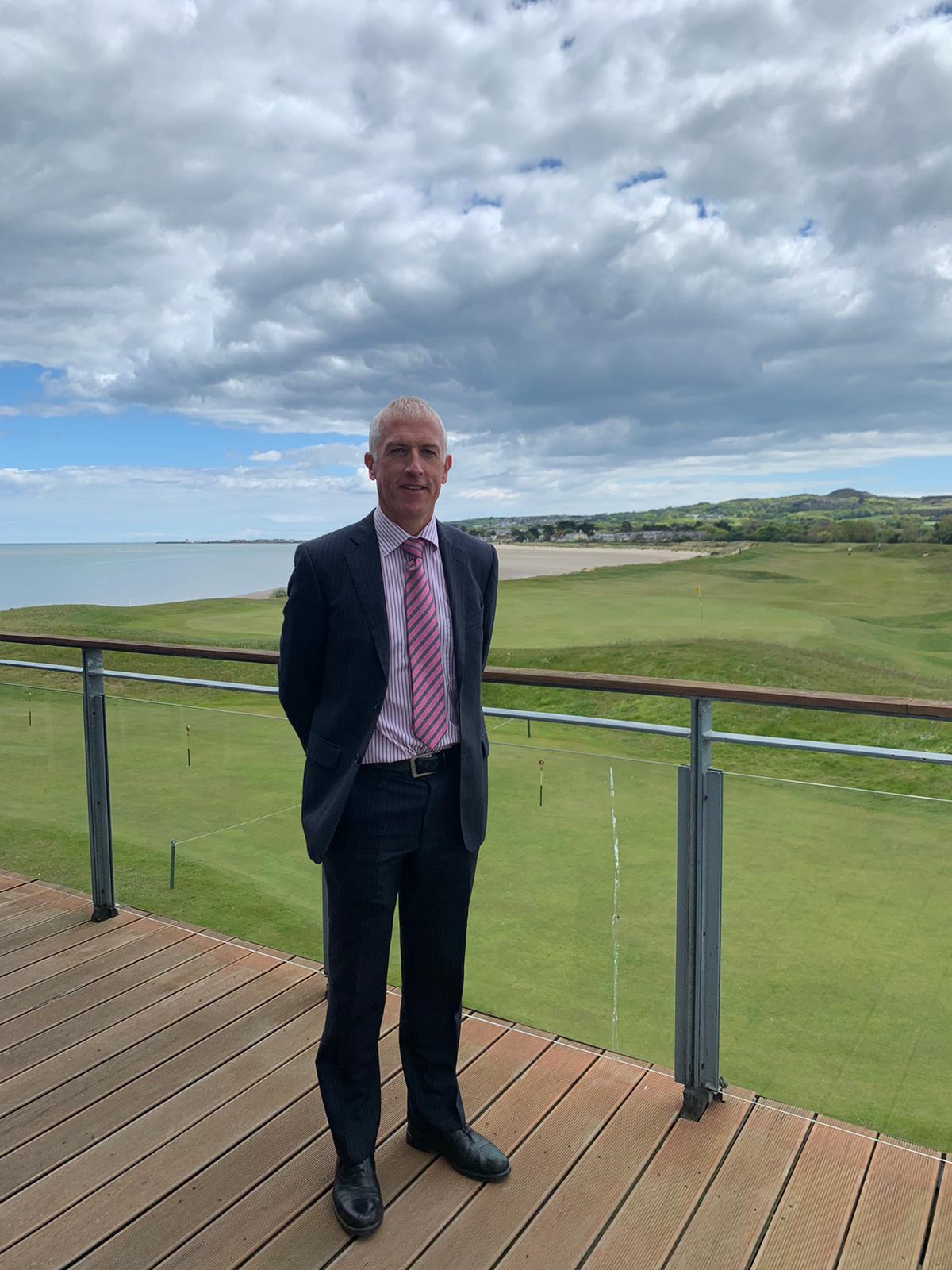 ---
Please tell us a bit about Sutton Golf Club
Sutton GC is a private members club and is located within the seaside village of Sutton which is on the northside of Dublin City. Chances are, that if you have flown into Dublin Airport then you will have seen the golf club from the air. Sutton has a great golfing history which dates back to 1890 when the club was founded. It was the home club of the legendary Joe Carr, probably Irelands most famous amateur golfer. To give an idea of how good Joe was, he played 10 times in the Walker Cup, captaining the team twice, won 3 British Amateur's and represented Ireland over 150 times. Not surprisingly he was inducted to golf's Hall of Fame in 2007. The club has won numerous national golf titles over the years and has provided past presidents for both the Golfing Union of Ireland and the Irish Ladies Golfing Union. In 2020, it was voted Irelands Best 9-hole course by "The Golfers Guide to Ireland".
How does it compare to Black Bush Golf Club?
While both are private member clubs, it's probably not fair to compare the two as the clubs are totally different. Black Bush GC is a 27-hole parkland facility which was only opened in the late 1980's. It is located out in the country, about 20 miles west of Dublin. There is currently a membership of just under 1000 with plenty of scope to increase. The club is a great venue for societies and visitors and has the capability to cater for these both during the week and more importantly at weekends. The Food and Beverage operations are outsourced in Black Bush GC.
Sutton GC on the other hand is over 130 years old, is a 9-hole links course and is located right in the heart of the village. It is fair to say that lots of the members in Sutton GC can actually walk to the course if they so wish. This certainly adds to a great social scene in the club. Membership is as good as full at moment with c.650 members. The club focuses very much on providing ample tee availability for members which means that availability for visitors and societies is limited. Finally, everything is managed "in-house" in Sutton, which will bring its own headaches for me.
You are joining just shortly after golf in Ireland opens up again. What challenges do you think this will present?
It is great to see golfers back on the fairways here again as we have been without golf since the start of the year. There have been a lot of restrictions since golf has recommenced, but these are being amended nearly on a weekly basis. As a result, it is necessary to keep abreast of all these amendments to make sure that when I start that I am aware of everything that is required at that time. There will also be a lot of changes coming down the line (we hope to have outdoor dining back from June 7th with indoor dining coming back in July) so planning and preparing for these will take up a significant portion of my time in the coming weeks.
What will be your objectives for the club when you start, both long term and short term?
The short-term objectives will certainly all be about trying to get back to some normality after Covid. Hopefully, the Food and Beverage operations will be able to recommence on June 7th, so making sure that the club is ready for this will be top of my agenda. Obviously, this has been a very tough time for both the members and the staff so it will be great to have everybody around, even if it is outside for a while. It is hoped that we will be able to get inside shortly after this, with some events planned for later in the year (fingers crossed).
As for longer term objectives, there are some major items on the horizon. There will be a review of the governance of the club, the clubhouse is due a makeover and a review of membership categories is also planned.
How has the CMAE helped you with your career to date?
Joining CMAE was one of the best decisions I made since moving into club management. It is hard to quantify exactly how much it has helped but I know that without it, and the support of the IGCMA (Irish Golf and Club Managers Association) that I would not be in this position now.
I have completed my CMDip via the CMAE and I feel this has given me great confidence in my own abilities. I have since completed MDP3 and hope to progress to the elusive CCM.
The power of the tribe is also a fantastic part of being a member of CMAE. There is always somebody on the end on a call, text or email and you get access to 100's of experts, for free!