The golf industry 'Oscars' went 'virtual' this year, with hundreds tuning in online to watch their contemporaries receive a coveted 59club Service Excellence Award
The golf industry 'Oscars' went 'virtual' this year, with hundreds tuning in online to watch their contemporaries receive a coveted 59club Service Excellence Award, as the market-leading performance-management specialist continued to honour its best performers across the UK & Ireland.
And, for two individuals, it proved doubly worthwhile, as Long Ashton's Glenn McNaughton and Goring & Streatley's Matt Aplin retained titles they received the previous year.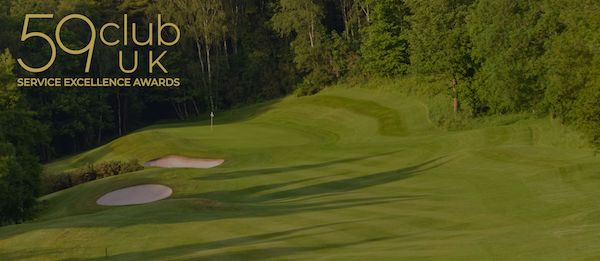 McNaughton repeated his feat of being crowned 'Food & Beverage Manager of the Year', while Aplin continued to bloom as one of the victorious 'Greenkeepers of the Year', both within their respective qualifying categories.
There were also more celebrations at the Bristol-based club, as Long Ashton was named one of the class winners in the 'Golf Operations Team of the Year' category, while retail manager Jack Heginbotham secured the club a third title, and the venue went on to retain its my59 Service Excellence accolade, in the virtual event hosted by presenter and broadcaster Dan Walker.
Owing to 59club's ever increasing portfolio of affiliate venues, along with the diversity of the golf club industry, an additional tier for the 2020 awards was introduced, which saw winning performances recognised across three categories, to reflect the respective price points and the market segment each property has chosen to compete within.
McNaughton was joined in the F&B winners' enclosure by Kingswood's Simon Ibbotson and Stoke Park's Christian Tarca, while Aplin's fellow greenkeeping celebrators were Phil Chiverton, of The Grove, and Gary Nicoll, of Panmure GC. The latter three venues enjoyed further celebration when Panmure landed a my59 Service Excellence award, Tim Harris (Stoke Park) scooped 'Golf Retail Manager of the Year', and Brad Gould (The Grove) was crowned 'Golf Manager of the Year', alongside Tom Lawton (The Mere Golf Resort & Spa).
Speaking of the Long Ashton's triumphant successes, Gareth Morgan, General Manager said: "Over the past 2 years, 59club has given us the structure and the theory to ensure everyone in the team knows what is expected of each other across multiple departments, and that has assisted us to develop our reputation for delivering great customer experiences both on and off the course. I can genuinely say there is a buzz around the place every time a mystery golfer report lands.
"The recognition the team have received this year has been well deserved in my biased opinion. Despite all of the challenges COVID has thrown our way they have each contributed to an increase in service levels, and I am incredibly proud that every possible area of the Club received a nomination for this year's awards.
"We are already looking ahead at how we improve from here. Because, as 59club always tell me – better never stops!"
Will Hewitt, 59club UK's general manager, said: "This was our 11th annual Service Excellence Awards ceremony, but the first – and, hopefully, the last – we've been forced to host remotely.
"As always, our congratulations go out to all the winners and those who secured 'podium' finishes, which is still a sign of exceptional quality. But a special mention must go to Long Ashton GC for stealing the show in securing four titles."
Stirling GC witnessed a double celebration as Kenny Monaghan scooped the 'Golf Retail Manager of the year', while the venue claimed the 'Golf Operations Team of the Year' title alongside Gleneagles.
Also landing two titles was Farleigh GC, which secured both a 'Golf Manager of the Year' award, through James Ibbetson, and the much-coveted 'my59 Ultimate Service Excellence' title for its commitment to engage, analyse and enrich its members and guest experience utilising the my59 survey tools.
Two other venues shared the 'my59 Ultimate Service Excellence' award: newcomer Glynhir GC, and Stoke by Nayland Hotel, Golf & Spa, which retained this highly prized title from 2019.
Phil Stickler (St Pierre, Marriott Hotel & Country Club), and Dan Hawkins (Celtic Manor Resort) were both victorious within the individual 'Golf & Leisure Membership Sales' category, with Branston Golf & Country Club claiming the 'Leisure Membership Sales Team' award.
Other venues celebrating success on the day were Ashford Manor GC, Dulwich & Sydenham Hill GC, Edgbaston GC, Haydock Park GC, Highgate GC, John O'Gaunt GC, Pollock GC, Radyr GC, and Trentham Park GC.
The places in the 59club service excellence awards are determined by scores collected from its impartial mystery shopping audits, which evaluate the experience afforded to visiting golfers and prospective members, in accordance with objective benchmarking criteria. And they represent all areas of the business: sales, service, operations, retail, golf course, food and beverage, and management.
59club's coveted industry benchmarks of excellence – its gold, silver and bronze flag designations – are scheduled to be revealed at a 'live' event in the summer, as 59club recognises member clubs and resorts that provide excellent facilities for golfers to enjoy, as well as having achieved the required standard of customer service throughout the year.