The Club Managers Association of Europe's (CMAE) in partnership with Dubai Golf, held their latest Management Development Programme offering in Dubai
The Club Managers Association of Europe's (CMAE) in partnership with Dubai Golf, held their latest Management Development Programme offering in Dubai, with a total of 44 delegates attending the MDP part 1 and MDP part 2 courses that both took place on the 14-18 May.
Taking place at the Dubai Creek Golf & Yacht Club and the Park Hyatt Hotel, the delegates were treated to a week of unrivalled club specific education sessions and networking.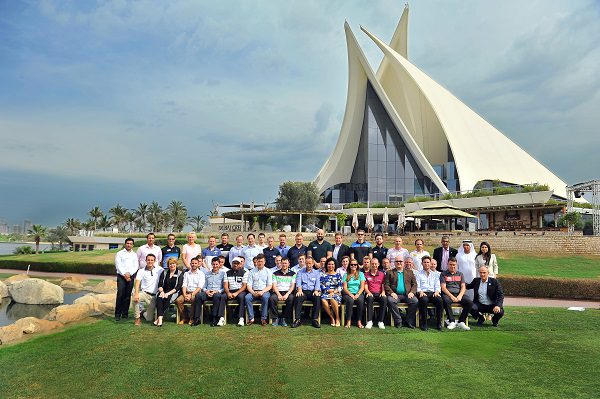 Pictured – The delegates in front of the Dubai Creek Golf & Yacht Club clubhouse
The MDP part 1 course focuses on Club Operations and the 10 core competencies of the modern club manager and sees leading club industry experts deliver education sessions on Management, Leadership, Food and Beverage Operations, Club Governance, Membership Marketing, Facilities Management and all of the statutory compliance required to run a successful club.
The Part 2 course is also a week long and builds on the foundations of Part 1 to focus on strategic and business planning, performance and service standards, and the professional and communicative skills needed to develop every aspect of both my performance and the club.
During the week delegates were also able to enjoy a special evening event, where a panelist of experienced club managers from the Middle East explored ideas that their clubs have put in place to drive footfall, revenues and maximize their assets. The panelists were Ed Edwards, Group General Manager at Abu Dhabi Golf Club, Martin Duff, Director of Golf Sharjah Golf and Shooting School, Andy Meech, Sports and Recreation Manager at Dubai Golf, and Christopher May CCM, CEO at Dubai Golf.
CMAE's Director of Education Torbjorn Johansson commented on the week: "This was the third time CMAE have taken the MDP courses to the Middle East and we are again delighted with the success. We had another fantastic response from delegates and had 44 attending from 10 different countries, which created an excellent networking opportunity for all involved".
Christopher May CCM, CEO of Dubai Golf added: "We were delighted to host CMAE delegates from around the world once again in Dubai, we feel this is an important opportunity for industry colleagues to learn from each other and develop a clear pathway in their careers. It was pleasing to see delegates from Europe, the Middle East and Asia gather in Dubai to benefit from what the MDP programme has to offer. It is fast becoming an opportunity not to be missed by any aspiring Club Manager of the future. We are already planning ahead for next year and look forward to hosting an enhanced MDP programme in 2019."
Tom Rourke, General Manager of Meydan Golf Dubai, who was a delegate on the MDP 2 course said of his experience "I attended Club Managers Level 2 in Dubai in May 2018 and wow what a week! The level of information delivered by the industry leaders is so worthwhile and valuable it will improve your short, medium and long term of how you manage YOUR CLUB. All subjects are covered in good detail and the Lumina Spark survey and session will teach you an incredible amount about yourself so that you can be more aware of others and your own strengths, style and weaknesses.
I would highly recommend for anyone in the Club Management industry to attend and join CMAE to help you and your business get to the next level. The value the course delivers is incredible and you will take so much away from every day to improve your future."