The 2017 Joe Perdue Bursary is open to applicants today!
The 2017 *Joe Perdue Bursary is open to applicants today!
This year the Joe Perdue Bursary will provide 3 awards to 3 worthy candidates.
The 1st Bursary will cover the cost (up to £1,800) of attendance at the next CMAA World Conference, to be held from 2 – 6 March 2018 in San Francisco, California, USA.
This award will cover all travel and accommodation, plus subsistence expenses. It is open to members already on CMAE's Management Development Programme (MDP), as World Conference is one of the key criteria necessary to take the globally recognized Certified Club Manager (CCM) exam.
In addition, two Bursaries will be awarded to cover the costs (up to £1600) of attending a CMAE MDP course in the 2017/18 Academic Year. These awards are open to all members of CMAE, its Affiliated Organisations and Alliance Partners, who want to experience the renowned MDP pathway for themselves and gain invaluable skills, knowledge and networking to accelerate their professional development.
If you believe you could be a worthy recipient of the Bursaries available this year, then please apply, by downloading the application form.
The closing date for applications for the 2017/18 academic year is 1st August 2017.
All applications will be reviewed by the Board of the European Club Education Foundation (ECEF), and the winner will be announced by 31st August this year.
Last years winners included Gabriel Sota and Alberto Iglesias from Spain who both attended MDP F&B with the bursary, Alberto said of the experience "To receive the Joe Perdue Bursary 2016 award was a great honor for me among the many highly qualified managers from all over Europe. It helped me to finish the only level that I lacked in formative studies of CMAE in preparation for the CCM exam. The MDP F&B was an excellent programme with an exceptional experience at the Les Roches International School of Hotel Management."
CMAA's World Conference is a renowned annual 4 day residential conference, taking place in a USA city during February or March each year. Over 150 educational sessions, covering all 10 competencies for a Club Manager, are offered, together with global networking opportunities.
CMAE's MDP Courses consist of MDP Parts 1 and 2, MDP Golf, MDP Food & Beverage and MDP Strategy and Leadership.
Any Club industry personnel interested in applying for either of these bursaries, who want more information, should contact CMAE Director of Education, Michael Braidwood, CCM, or their local or regional Club Manager Association.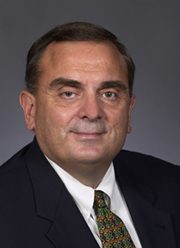 *Joe Perdue, R.I.P.
Since 1986, Joe Perdue had served as Academic Advisor for CMAA. He was responsible for the initial development of CMAA's Business Management Institute (BMI) Education Pathway in the US, and subsequently China, South Africa, Europe and Canada. Joe also developed the CCM, a qualification globally recognized as the benchmark of excellence in Club Management.
Here in Europe, Joe was a founder member of the CMAE Education Policy Board, where, thanks to his vision and generosity and that of CMAA, he enabled the development of our own CCM qualification, together with the CMAE MDP Pathway.
It is true to say: "No Joe Perdue, no MDP" and therefore CMAE has decided to commemorate Joe's wonderful commitment to education and his invaluable legacy in Europe, the Management Development Programme by an annual Bursary programme, administered through the European Club Education Foundation (ECEF)