Jacobsen has started a new era of end-user focused products with the launch of the AR530 rough mower.
Jacobsen has started a new era of end-user focused products with the launch of the AR530 rough mower.
The AR range has been redesigned from the ground up with the focus on re-establishing Jacobsen's commitment to engineering best in class mowers with their famous quality of cut.
To achieve this, customers and dealers participated in one of the largest ever research programmes commissioned at Jacobsen to establish the everyday challenges greenkeepers and groundsmen face. The results focused on features, quality and durability. These were crucial elements in the design process for Jacobsen Product Manager, Lee Frie.
Lee explained: "We had a machine that did well in the market, and we learnt a lot in seven years, so this was really a ground-up redesign of a good machine that we wanted to make better.
"We wanted to improve the experience of cutting with the AR and the results you get from it, and I think operators are going to find quite a bit different about this machine. We've improved the cut quality as well as the after cut appearance with grass clipping dispersal. We've also improved the traction system, so it does a fantastic job of climbing and side hill performance.
"The ergonomics are greatly improved, and it's much easier for operators to get on and off because you don't have to climb over the units. All of the controls are at the user's finger tips, so it's very easy to operate, and I think they are going to see a vast improvement."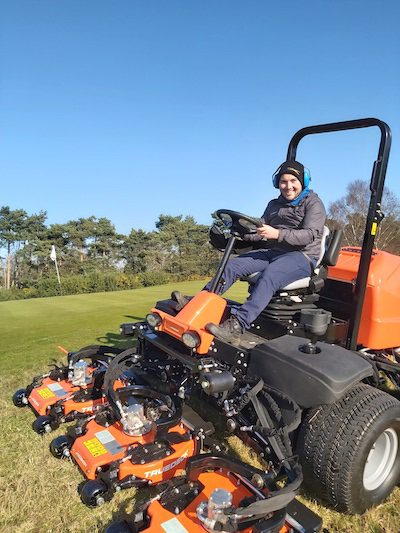 Nothing has been taken for granted during the redesign, and that includes the quality of cut. The new AR models are available with five or seven floating 58cm articulated contour rotary decks, with the AR530 providing a cutting width of 2.3m and the AR730 – which is due to launch in September 2020 – 3.15m.
The new TrueDeck design uses smaller decks to follow tight undulations and provides the best power per width of cut ratio on the market. This eliminates clumping and produces a better after cut appearance while height of cut adjustments can be made quickly and easily.
To harness the cut quality, the traction system has been enhanced to a best in class standard using SureTrac II 4WD. This parallel-cross diversion hydraulically powered traction system, with momentary 4WD differential lock, provides superior traction when climbing difficult contours and slide slopes by transferring power from the wheel that slips to the one that grips. Using this system allows the AR to glide over hilly terrain with acute undulations while giving an even cut by utilising the weight transfer system.
The sound level of the machine has been lowered to make it quieter for the operator and to reduce passer-by noise. Vibration has also been looked at in detail. Overall operator exposure to vibration is a health and safety requirement but that aside it is often a subtle thing, and it can make users feel tired during their working day, but with the reduced vibration levels, using the AR minimises operator fatigue.
The seat position and InCommand II control system have all been adjusted for maximum comfort and productivity while the new step design has been installed to make getting on and off the machine significantly easier.
All of these features have been combined into a Stage V compliant unit that has been assembled with a commitment to high-quality engineering and a promise of outstanding performance and service.
For a demonstration of the new AR530, contact your local Jacobsen dealer or visit https://www.jacobsenbuilt.com/.