59club Europe South kicks off 2022 with an unmissable day of education, as world-renowned presenter, Gregg Patterson makes his way to Marbella on February 28th, 2022.
59club Europe South kicks off 2022 with an unmissable day of education, as world-renowned presenter, Gregg Patterson makes his way to Marbella on February 28th, 2022.
An inspirational speaker, author and mentor, Patterson will deliver an insightful and super energised seminar on how to build, sustain and motivate the Dream Team. The days education concludes as 59club present their illustrious Service 'Excellence' Awards, as they recognise and applaud those who excelled during 2021 across all areas of the golf and hospitality operation – from sales etiquette and customer service delivery to facility management.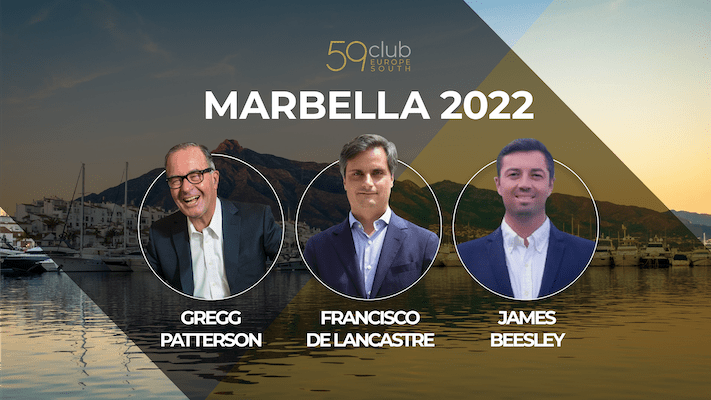 Patterson, CEO of "Tribal Magic!!!" became the General Manager of The Beach Club in 1982 and spent 33 glorious years as their GM, working with his members, boards, and committees to enhance the value and reputation of The Beach Club in the Los Angeles community. Prior to this, he was the Assistant Manager of the Bel-Air Country Club in Los Angeles and has been heralded for his "energy, insight (and) great passion for the business of club management".
The creator of a number of widely used management-development programmes and a regular contributor to leading trade journals, Patterson also teaches certification courses in leadership and marketing for the Asian American Hotel Owners Association and is a visiting professor at two universities in Gujarat, India.
He will bring his unique and engaging style of presentation to bear on the subject of 'Building the Dream Team' in an event 59club officials believe is a 'must-attend' for all managers, team leaders and deputies working across the golf and hospitality industries.
59club Europe South director James Beesley explains: "The seminar is aimed at all golf, hospitality and leisure managers who are looking to re-motivate their teams, maximising service and revenues in 2022.
"Successful golf and hospitality venues are constantly searching for ways to encourage employees to 'give a little more' and increase their service offering to ensure customers are bowled over by the care and attention they receive. Gregg's presentation will demonstrate how we can all make that happen."
Patterson will be followed on the stage with a presentation by Francisco de Lancastre, General Manager Golf & Leisure at Finca Cortesin, on how the region can capitalise on the Solheim Cup 2023, while 59club's Regional Director James Beesley, offers his own insights on how to put operational and service principles into practice.
This incredible educational journey will also honour 59clubs' best performers across Spain, Portugal and Italy at the event, after 12 successful years of shared award ceremonies previously hosted alongside their British counterparts in the UK.
The 59club Service 'Excellence' Award winners are determined by scores collected from 59club's impartial mystery shopping team, which evaluates the experience afforded to visiting golfers and prospective members across the spectrum, in accordance with objective industry-leading benchmarking criteria.
The all-day seminar – an essential date in the diary for managers and industry leaders– costs € 50 (plus VAT) per delegate.
To book, email [email protected], or for more information visit our web page