The international division of Golf Genius, the leading provider of cloud-based golf software solutions, today announced record 2022 performance across key global markets.
Across UK, EMEA and APAC regions, total rounds managed with Golf Genius Tournament Management increased year-on-year by 64%.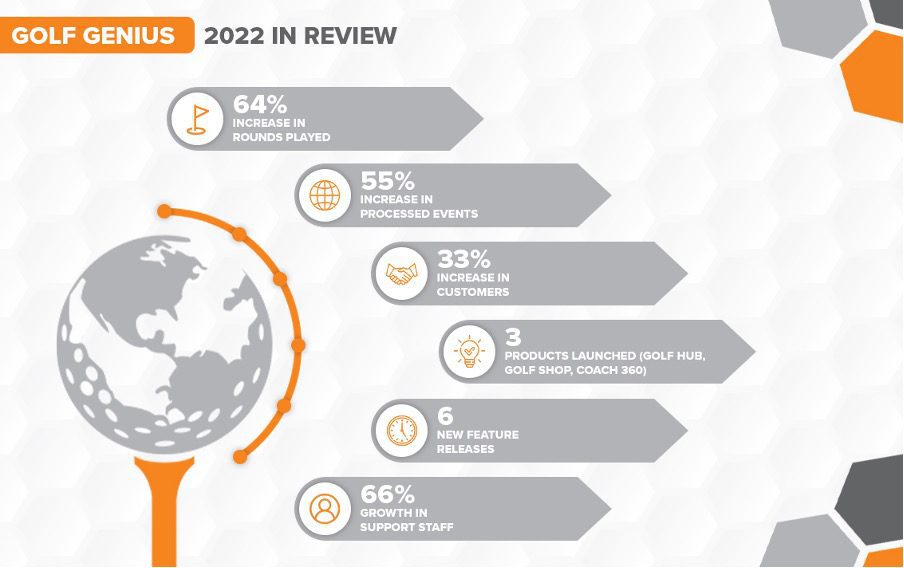 Supporting this increase in rounds was a surge in customer adoption, with hundreds of new international customers using Golf Genius Tournament Management to elevate their golf competitions and events, including the 2028 Ryder Cup host venue, Adare Manor, Ganton Golf Club, Tokyo Classic Club in Japan, Fancourt in South Africa and Huntingdale Golf Club in Australia.
Total events processed by Golf Genius customers rose by 55% thanks to numerous examples of high-profile competitions being delivered, including The Concession Cup at Valderrama, the Australian Open and the Eisenhower Trophy.
Golf Genius also led the way in handicapped golf events in 2022 evidenced by a total of 15 WHS accreditations from national governing associations, including Golf New Zealand and GolfRSA.
Managing Director for Golf Genius International, Craig Higgs, commented: "From clubs and resorts such as Hillside and Costa Navarino; to national governing bodies such as Golf NSW and Golf Ireland; to our work in supporting European associations in the delivery of GolfSixes; our 2022 successes reflect the wide-reaching impact Golf Genius has at all levels of the game.
"Enabling this success has been our outstanding team of support staff, developers and regional representatives, that ensure our products and support levels exceed the needs and expectations of our customers."
Further investment in staff reinforced Golf Genius' product development drive in 2022, which saw six release cycles completed to deliver more than 70 new product features and functionality enhancements for its customers.
With developments ranging from auto-score posting to WHS; the ability to handle "roll-up" competitions for simple check-in and play; extensive pennants improvements; and a range of new Golf Genius Golf Shop enhancements, these releases have been designed to help customers save time, create more revenue, and deliver exceptional experiences for their golfers.
"Golf Genius is simplifying the organisation of our golf events and is allowing us to elevate our offerings to clients, and I couldn't recommend it more highly to other clubs," commented Jeremy Matte, Director of Golf and Operations at Cabot Highlands.
To find out more about Golf Genius and how it can benefit your golf facility, you can book a free product demonstration here.