Club leaders from Scotland, Ireland and the North of England came together at Loch Lomond Golf Club recently to participate in an educational symposium hosted by Global Golf Advisors (GGA) in partnership with CMAE.
Club leaders from Scotland, Ireland and the North of England came together at Loch Lomond Golf Club recently to participate in an educational symposium hosted by Global Golf Advisors (GGA) in partnership with CMAE.
The GGA team delivered insights, research and current trends influencing success, while senior club figures discussed the challenges, issues and successes of the past year and forecasted opportunities and possible difficulties for the next 12 months.
Managing Partner of GGA's EMEA Practice, Rob Hill, who directed the Symposium, said: "Our Symposiums foster a culture of knowledge sharing and collaboration among club leaders, many of whom are tackling the same challenges and are eager to learn from each other's successes. This, backed by GGA's research findings, provides a foundation of confidence and focus for the year ahead."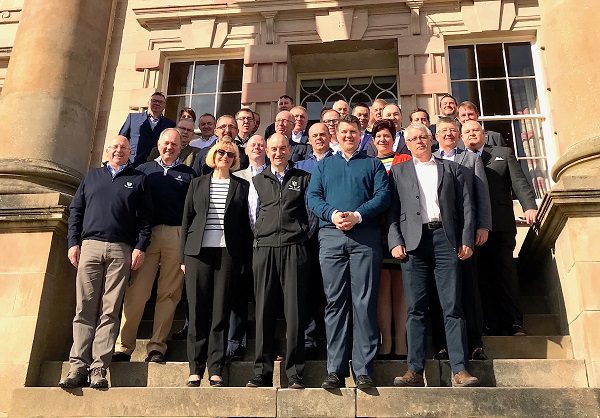 The Symposium touched on a vast array of topics ranging from far-reaching global trends to granular, market-specific issues managers are typically experiencing, including strategic thinking, business intelligence, member satisfaction, capital expenditures, membership growth, and governance.
Key Takeaways:
The Symposiums isolated a number of key themes and challenges club managers are set to face in the year ahead:
Strategic thinking is a challenge everywhere, particularly among club Boards. Challenges in defining strategy, remaining strategic at the Board level, and qualifying the elements of a strategic plan are widespread.
Business intelligence resources are in high demand. Many clubs indicated that they do not have all the data they need to make strategic assessments and key business decisions, particularly as they relate to local-market understanding, member satisfaction, club utilization habits, and evaluating club finances.
Member Satisfaction is paramount. Club managers believe that understanding members' satisfaction, current habits, and future preferences is essential to a happy club environment. Empirically and anecdotally, there was strong correlation between overall member satisfaction and evaluations of a club's social atmosphere, food and beverage operation, and clubhouse quality/condition.
Millennials and Generation X are top of mind. While tactics for recruitment and sentiments for the viability of these audiences varied significantly among regions and participating managers, it is evident that understanding the future generation of club members is a hot topic for club managers and a concern for some.
Governance is both a source of strength and adversity. Clubs are constantly facing challenges to govern effectively and implement governing infrastructure which supports the organization's strategic vision. At clubs where governance is characterized by strategic thinking, written policy, and efficient, purposeful deliberation, success often follows.
Clubs are considering the following key initiatives for 2018:

Strategic Plan implementation: implementing/executing golf course masterplans, facilities masterplans, determining club brands, or evaluating club relevance to current/future members.
Governance reviews: reviewing governance practices, ensuring governance models are more 'business' appropriate, implementing Board Policy Manuals, and operating with greater transparency and more communication.
Membership changes: evaluating membership categories, measuring member utilization, focusing on maintaining existing members, and assessing approaches to attract Millennials/Generation X.
Financial monitoring: increasing the measurement of goals and financial performance through business intelligence/satisfaction surveys/employee surveys, assessing costs and benefits of process improvements through technology/robotics, and monitoring labor costs.
Environmental assessments: gauging the cost and potential impacts of processes focused on sustainability, ecology, and environmental stewardship.
Capital replenishment: conducting capital reserve studies, building capital reserves, exploring new methods of capital funding, gaining member support for CapEx through digital communications (i.e. video information rather than Town Hall meetings; estimating vote projections through online surveys; electronic voting for easier capture and analysis), and improving the monitoring capital maintenance requirements.
Rob added: "While these learnings represent only macro-level, shared sentiments among participating European club managers, they point toward an auspicious outlook for the 2018 golf season, one defined by a focus on data-driven decision-making and informed strategy."