CMAE member and Certified Club Manager Frank O'Donnell CCM has been announced as the new club secretary of Thorndon Park Golf Club.
CMAE member and Certified Club Manager Frank O'Donnell CCM has been announced as the new club secretary of Thorndon Park Golf Club.
Frank first entered the club industry in 2008 when he joined the Caledonian Club in London as Front Office Manager. He spent the following 9 years running the Club's reception desk and overseeing the accommodation offering before being promoted to House Manager in 2017.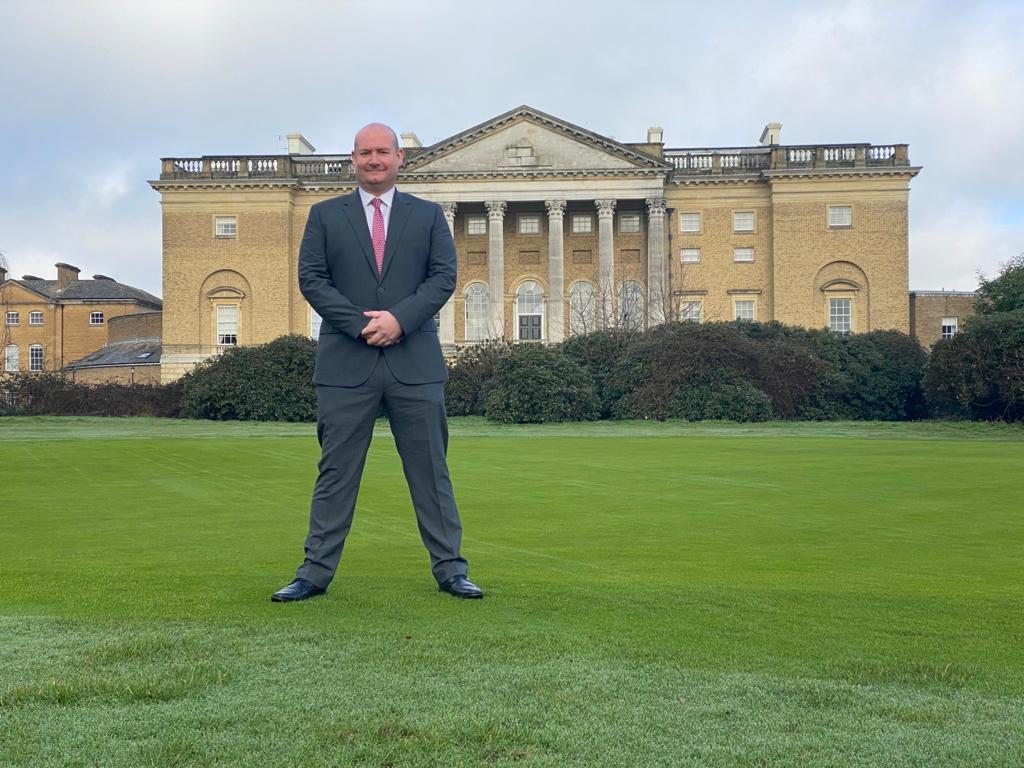 Pictured – Frank O'Donnell CCM
Frank gained his Certified Club Manager (CCM) in 2020 joining the elite band of 61 Club Industry professionals in Europe and the Middle East who have achieved CCM status.
Frank now joins the prestigious Thorndon Park Golf Club in Essex as their Club Secretary. We caught up with Frank to ask him a few questions about the club and his exciting new appointment.
---
Congratulations on the appointment Frank, a big change from a City Club to a Golf Club!
I actually don't consider it to be too dramatic a change, the 'product' is obviously different but the ethos of Club remains and fortunately for me the Board at Thorndon Park felt the same way! I should point out however that I had been looking to move into Golf Club Management for some time prior to Covid-19 and had been pretty close to an appointment on a couple of previous occasions so I am obviously delighted to have finally found the right opportunity at the right club.
Please tell us about your 2020, it must have been a tough year?
Well, 2020 certainly was a strange year and one that took us all into unchartered territory! I began the year, as you know, as Clubhouse Manager at The Caledonian Club in Belgravia, where I had been since 2008 and finished the year in the final interview stage for my first role as a Club Secretary, with so much happening in between!
Life as we all knew it stopped in March and as Clubhouse Manager, I headed up the Caledonian Club's lockdown team as we worked to keep the building safe and secure during the closure. As I worked throughout, I never experienced furlough and cannot imagine what it must feel like for so many of our colleagues who have not worked for almost a year – I just hope everyone is back to work soon.
We were naturally excited to welcome Members back to the Club on July 20th and I am immensely proud to have led the operations team in transforming the Clubhouse in order to comply with all government guidelines and also to have achieved 'Covid Secure' status for the Club by early August. This allowed us to hold small events of up to 30 guests and we actually held two wedding receptions at the Club in August and September and it felt as if we were slowly inching our way back to normality – little did we know!
Sadly however, the continued financial effects of Covid on the business, coupled with an increase in government restrictions resulted in my redundancy just before the November lockdown. I was naturally disappointed as I had not been furloughed at any time. However when one door closed, another door immediately opened and Thorndon Park awaited me!
2020 wasn't all doom and gloom however as early in the first lockdown I actually received some much needed positive news when I learned that I had passed the CCM exam and over a decade's hard work had come to fruition. I was and remain exceptionally proud of this achievement and I am very grateful to Toby for facilitating the exam in an online platform for the first time ever, thus allowing those of us who had studied hard for the March exam to sit it remotely without having to defer. I have no doubt that being a CCM had a huge bearing on my appointment at Thorndon Park and it is testament to the Association that the Board at Thorndon Park were familiar with both the CCM designation and the world class education programme that CMAE has to offer!
GM at Thorndon Park Golf Club, please tell us about Thorndon Park:
The view from my office window is certainly better and whilst I am only just beginning my tenure as Club Secretary, I can tell you that Thorndon Park is the most exclusive and prestigious Club in Essex and the only Top 100 course in the county! We celebrated our Centenary in 2020 and both the Board and myself are determined to ensure that the Club enjoys another prosperous 100 years and more. Despite the exclusive nature of the Club, the Chairman, Board and the Membership in general have all been extremely friendly and welcoming – from a social distance of course!
What do you look forward to the most – and what is the biggest challenge (of what you know now?)
I'm most looking forward to having Members and staff back on the course and in the Clubhouse, the Club has no heart beat without them!
In 2019 the Club completed the first phase of a major course refurbishment and there is still significant investment required before the project is complete. However, like many businesses, Covid drove a coach and horses through our finances in 2020 and whilst the club is still in excellent financial health, my immediate challenge is to successfully steer the Club through the final stages of the pandemic in a prudent fashion whilst recognising the expectation of the Membership that the course refurbishment be completed at the earliest possible opportunity.
Well done Frank and well done Thorndon Park. You will of course start while England is still in lockdown. What are your thoughts on that?
Perversely, it has given me a unique opportunity to familiarise myself with the whole business without the often-distracting day to day operations. So, whilst I am a little lonely in the office some days, I have been able to get a lot of work done on things like our business interruption claim, preparations for reopening and also to fully explore and appreciate our beautiful 240 acre estate. That said however, I cannot wait for Members and staff to return so that the Club's heart starts to beat again!