The EGCOA have finalised the European Golf Statistics for 2017, the key report for all European Golf Course Owners.
There are now over 4.15 million registered golfers across Europe with almost 7,000 standard length golf courses for them to play on, according to a report by the EGCOA.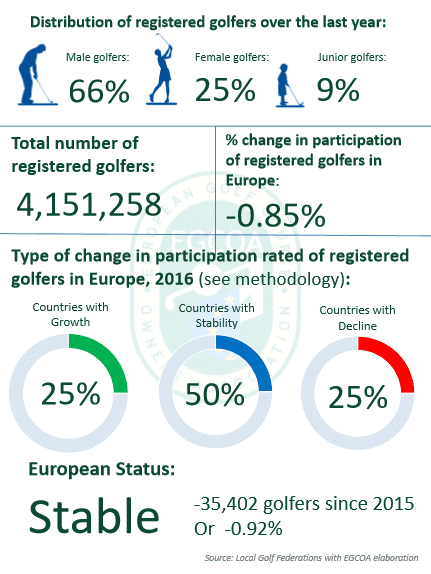 Over 50% of the European market is based in the 5 most established golfing countries, namely England, Germany, Sweden, France and the Netherlands with the top 10 markets hosting 86% of the golfers.
England still holds the title of largest golfing nation, at 16.86% of the total. However, Germany is quickly catching up at 15.49%. It has seen consistent growth over the last 10 years, whilst the English market has been slowly contracting. It also has a much healthier proportion of both Juniors and Women, suggesting that it may not be long until it leads demand for golf in Europe.
Click here to download the full report from the EGCOA website