Eleven UAE golf and club industry professionals recently received their Club Management Diplomas.
Eleven UAE golf and club industry professionals recently received their Club Management Diplomas. The Diploma is awarded across Europe and the Middle East by the Club Managers Association of Europe (CMAE) as a key qualification in its Management Development Programme's (MDP) education pathway.
The eleven successful recipients were Abdulla Al Noon of Dubai Creek Golf & Yacht Club, Jonathan Craddock, Stephen Deane, Craig Haldane, Rhys James and Bryan Smyth all of Emirates Golf Club, Phillip Dobson from The Track Meydan, Martin Duff from Sharjah Golf & Shooting Club, Ed Edwards from Abu Dhabi National & Saadiyat Beach Golf Clubs, Chris Ng'ang'a from Body & Soul Health Club and Howie Roberts from Yas Links.
All eleven attended MDP Parts 1 and 2 over a two year period, and attained their Diplomas by passing the end of programme exam, successfully fulfilling the requirements of an executive case study (that takes place during the week of MDP2) and submitting and passing a work based assignment on a problem at their club that they resolved by applying the key learnings from the MDP curriculum.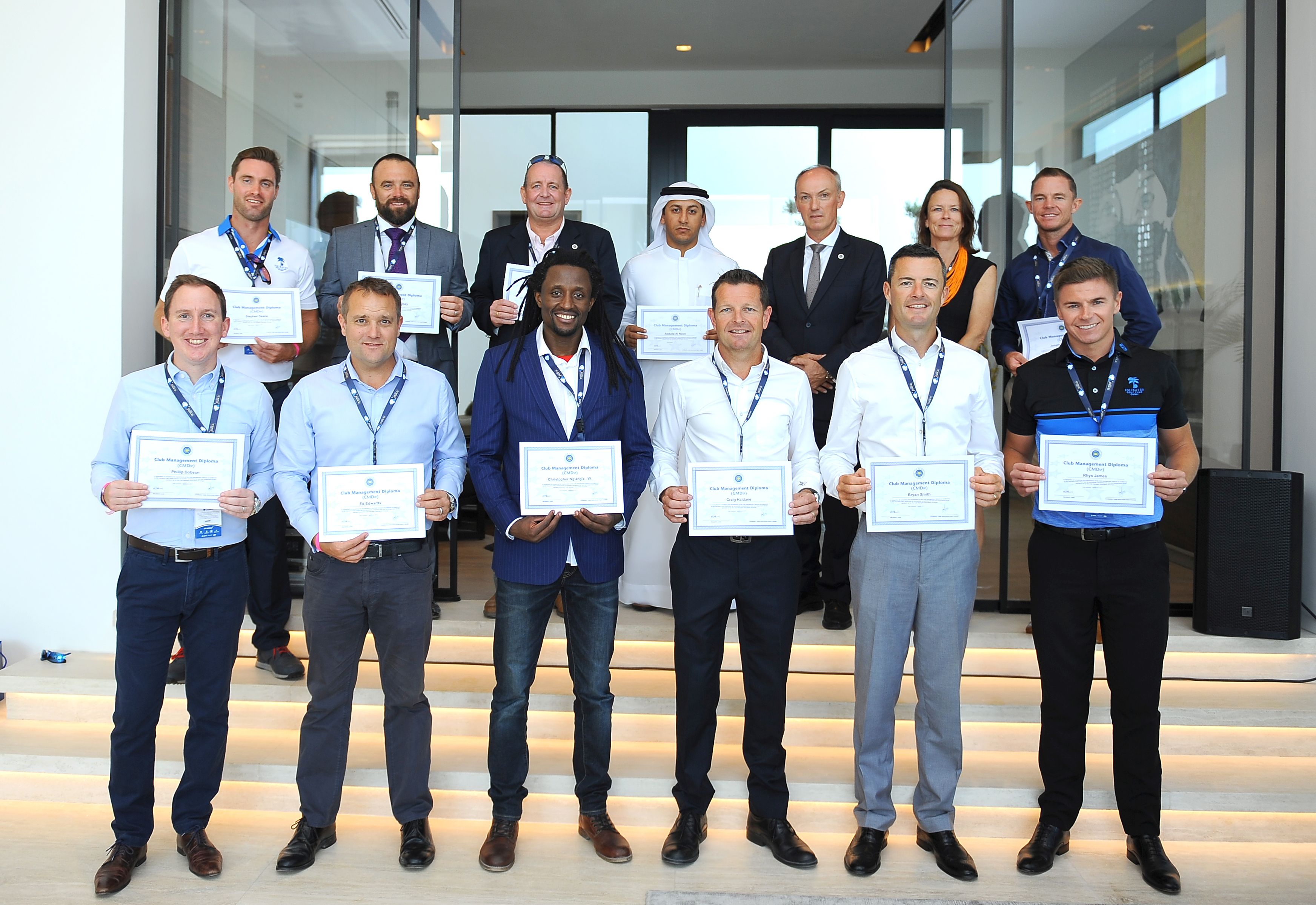 Stephen Deane, Marcus Casey, Nic Davies, Abdulla Al Noon, Chris May, Fiona Smith, Jonathan Craddock Bottom left to right: Phil Dobson, Ed Edwards, Chris Ng'ang'a . W, Craig Haldane, Bryan Smyth, Rhys James
Launched in 2011 the highly regarded MDP Pathway has already been promoted and delivered in Scotland, England, Ireland, France, Spain, Italy and United Arab Emirates. Each course delivers top class education to club managers and club industry professionals on the ten core competencies of modern club management.
Christopher May CCM, Chief Executive of Dubai Golf who organized the programmes in conjunction with CMAE said of their success "it gives me pleasure to hand out the Diploma certificates to industry peers. I have seen them work incredibly hard during their time at MDP, and then apply that knowledge in their clubs. They are putting their knowledge and experience to great use in the UAE and are growing the quality and professionalism of the clubs here."
Commenting on his success Craig Haldane the Golf Course Superintendent at Emirates Golf Club said "As a Course Superintendent I am ultimately responsible for the product, however our roles today have become a lot more inclusive in all aspects of running a club. I highly recommend this qualification to give a rounded perspective of the nuances of club management at all levels and the additional value in networking that this brings beyond the classroom, is invaluable". Ed Edwards, General Manager at Abu Dhabi National and Saadiyat Beach Golf Clubs added "Having the opportunity to complete MDP1 and MDP2 in the UAE and subsequently achieving the Club Managers Association of Europe Diploma has been beneficial from a professional growth standpoint and has allowed me to expand my peer network in the region and beyond. Furthermore, the CMAE structured educational program not only enables existing club managers to enhance their management tools, but also creates an internationally recognized foundation to inspire and develop talent within our industry, which can only be of benefit to the regional clubs in the long term."
The MDP pathway was originally developed by the Club Managers Association of America and thanks to their vision and insight has been shared with CMAE, who adapted the materials for the Golf, Sports and City Club Markets across Europe and the Middle East.
In 2017/18 CMAE will roll out another 12 MDP courses throughout the UK, Europe and the Middle East, with two programmes taking place in Dubai in May 2018.