Four Qatar golf industry professionals recently received their Club Management Diplomas.
Four Qatar golf industry professionals recently received their Club Management Diplomas. The Diploma is awarded across Europe and the Middle East by the Club Managers Association of Europe (CMAE) as a key qualification in its Management Development Programme's (MDP) education pathway.
The four successful recipients were Mohammed Al Naimi, Deputy General Manager Qatar International Golf Club (QIGC); Salman Al Khanji, Qatar Golf Association, Rhys Beecher, Director of Golf, QIGC and Darren Smith Golf Course Superintendent, QIGC.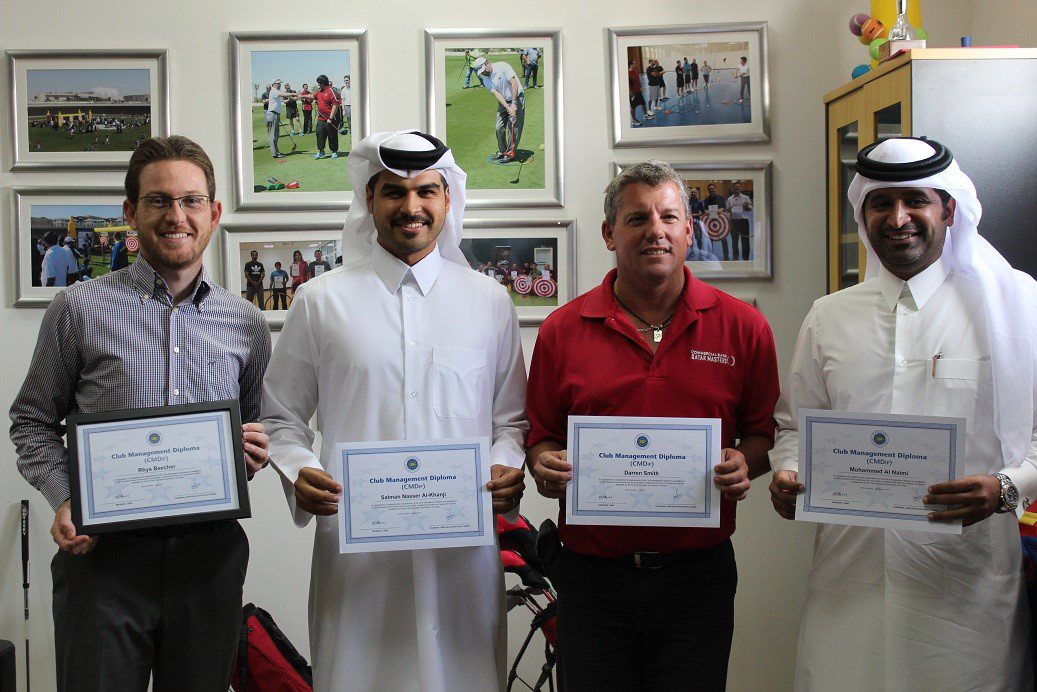 Pictured – From left to right Rhys Beecher, Salman Al Khanji, Darren Smith, Mohammed Al Naimi
All four attended MDP Parts One and Two over a two-year period, and attained their Diplomas by passing the end of programme exam, successfully fulfilling the requirements of an executive case study (that takes place during the week of MDP 2) and submitting and passing a work based assignment on a problem at their club that they resolved by applying the key learnings from the MDP curriculum.
Launched in 2011 the highly regarded MDP Pathway has already been promoted and delivered in Scotland, England, Ireland, France, Spain, Italy and United Arab Emirates. Each course delivers top class education to club managers and club industry professionals on the 10 core competencies of modern club management.
Michael Braidwood CCM, CMAE's outgoing Director of Education said of their success "it always gives me pleasure to hand out the Diploma certificates to industry peers. I have seen them work incredibly hard during their time at MDP, and then apply that knowledge in their clubs. These people are changing the perception of club management in our industry, and given the number of clubs now appointing trained and qualified managers, others are taking note."
Commenting on his success Mohammed said "I studied sport management and started my career managing a sport club. I enjoyed working in a sport industry and I believe that sport is not less important than education. When I moved to golf, I felt that there's a gap between me and my colleagues at work. In order to lessen this gap, I need to catch up more on golf knowledge and I have to attend a qualitative education. For that reason, I decided to enrol in CMAE. Today, I am very happy with my decision and being part of the CMAE family has helped me a lot in my career in upgrading my knowledge. Thank you very much and I will try my best to add value to CMAE in any way I can", whilst Salman added "The program helped me develop a unique perspective on how to grow the game of golf in Qatar, by focusing on sustainability, training and developing the golf staff and most importantly giving back to the community."
Rhys who recently achieved his PGA Director of Golf designation said, "I have been fortunate to study with both with the CMAE and PGA; both organisations offering progressive educational platforms. Personally, speaking I have found that the PGA Director of Golf certification has been complimented by the holistic CMAE pathway to CCM. Through the MDP levels and exploring the core competencies I have been able to capitalize not only the programme, but an expansive network of industry professionals".
Darren is an increasing number of Golf Course Superintendents who has achieved the diploma said of his award "Agronomy is one department within a team of professionals that it takes to operate a facility. This diploma assists me to stay in touch with the overall management of clubs".
The MDP pathway was originally developed by the Club Managers Association of America and thanks to their vision and insight has been shared with CMAE, who adapted the materials for the Golf, Sports and City Club Markets across Europe and the Middle East.
In 2017/18 CMAE will roll out another 12 MDP courses throughout the UK, Europe and the Middle East, with two programmes taking place in Dubai in May 2018.