Week long programme hosted by Confederation of Golf in Ireland covered ten core competencies of modern club management and best practice techniques for successful business strategy implementation
A delegation of Irish Club industry professionals recently completed the Club Managers Association of Europe's (CMAE) Management Development Programme (MDP) Part 1.
The week long programme took place in Dublin and was organised by James Burns, CCM*, of the Irish Golf and Club Managers Association (IGCMA), with the support of SkillNets. The event was underwritten and hosted by the Confederation of Golf in Ireland, the body set up to support, promote and develop the game of golf on the island of Ireland.
Designed to enhance the knowledge of each participant so that they can better serve their club committee, owners and members, the 14 delegates heard stimulating presentations from leading educators, including Ronnie Malcolm, Sharron Ruttledge, Duncan Ritchie & Kevin Fish, CCM*. They also engaged in a high-level presentation skills session conducted by Poll Moussoulides and Terry Small from 'Brainfluence'.

*Certified Club Manager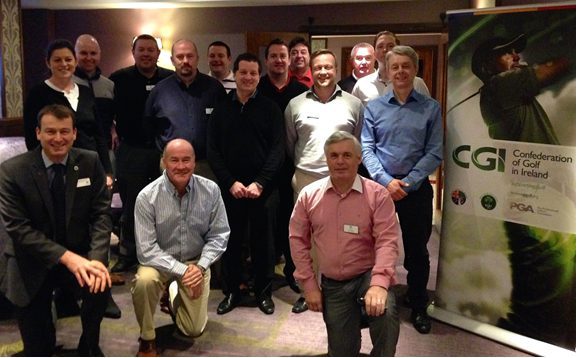 Delegates attending the recent MDP programme at Clontarf Castle Hotel in Dublin
The highly regarded Management Development Programme delivered top class education on all 10-core competencies of modern club management, namely:
Club Governance
Accounting & Financial Management
Strategy & Leadership
Golf Operations
Facilities Management
Membership & Marketing
Human Resources & Professional Resources
Interpersonal Skills
Food and Beverage Management
Statutory Compliance
John Roche, Director of Golf and Business Development with the Confederation of Golf in Ireland, who delivered the opening remarks at the event, says:
"This was a really inspiring programme which ignited fantastic passion and enthusiasm among all of the participants. It was wonderful to hear from such top level speakers who could offer a professional and best practice base to work from. It was also a great opportunity for delegates to establish a valuable network of support which will help them fulfil their careers in the industry. Ongoing education for club managers is key to the continuing growth and development of clubs across Ireland and I would highly recommend everyone in the industry to take part in this programme."
The next Management Development Programme will take place in Dublin from 16th to 20th November 2015
The MDP pathway was originally developed by the Club Managers Association of America and, thanks to their vision and generosity, has now been adapted by the CMAE for the European Golf, Sports and City Club Markets.
Feedback from all delegates was outstanding and included the following comments:
"Thanks for a wonderful week. A hugely enjoyable, educational and inspiring experience."
"I learnt a huge amount about Food & Beverage, Change / Delegation, Career Guidance, Facilities & plenty of other things. I would highly recommend this program to anyone looking to get into the Club Industry."
"Didn't know what to expect, it was way beyond my expectations. Each module opened up a whole new avenue of thinking about a golf club and I really enjoyed it."
"The reason I wanted to do MDP was to broaden my horizons and up skill myself with education; I definitely picked up something from each and every session."
"This program has opened my mind and I will bring back a lot of ideas to the Club. A lot of new contacts and a brilliant group dynamic."
"Fantastic experience for the week with some great networking and met some wonderful people. I definitely intend to follow through to Level 2."
"The knowledge I will take away from this week will be indispensable for what I am going to do in the future."
"The venue was fantastic, the Facilitators & Speakers were brilliant and I would highly recommend the program."
"I would recommend every General Manager, Professional and anyone in the Club industry to attend this course."

For more information about CMAE and their Management Development Programmes, please visit:

www.cmaeurope.org