Graeme Pryde CMDip has been appointed as the new General Manager at Preston Golf Club
CMAE member Graeme Pryde CMDip has been appointed as the new General Manager at Preston Golf Club in Lancashire.
Graeme's career in club management started six years ago and has seen him manage clubs including Royal Porthcawl Golf Club in Wales, Dewsbury District Golf Club and Lindrick Golf Club.
He now joins Preston Golf Club set in 120 acres of stunning, tranquil parkland in the heart of Lancashire.
Graeme joined the CMAE's Management Development Programme in 2015 and gained his Club Management Diploma (CMDip) in 2019.
Here we caught up with Graeme to ask him some questions on his new role at Preston Golf Club.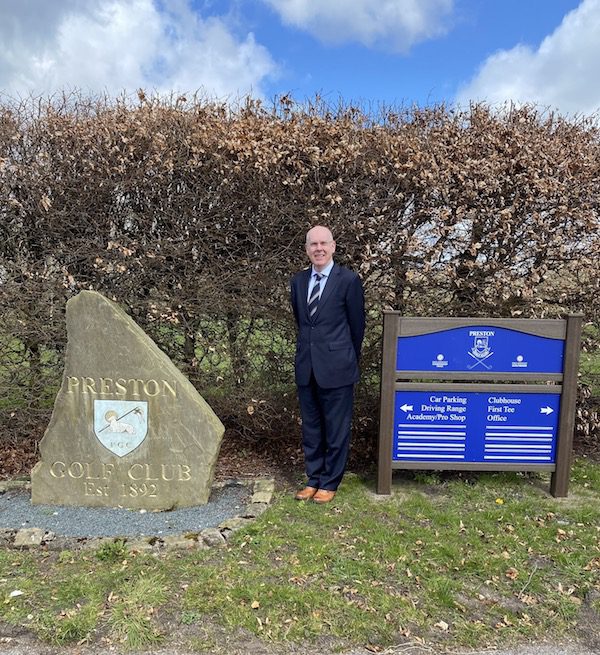 ---
Congratulations Graeme! Please tell us a bit about Preston Golf Club
It is a private members club set in 120 acres of stunning, tranquil parkland, on the north side of Preston in Lancashire. The superb 18 hole course dates back to 1892, with the design influenced by such luminaries as James Braid, Harry Vardon, Dr Alistair Mackenzie & Sandie Herd. It has a wonderful variety of holes plus superb USGA constructed greens that offer a challenge to players of all abilities. It also features a golf academy, an indoor simulator practice facility and 16 bay driving range. Preston Golf Club is an ever popular choice for social or competition golf and is an ideal location for society or corporate golf days.
You are starting at an interesting time with clubs in England having opened just a week ago. How did you prepare yourself for this?
My first day in the role was to quickly understand the club's reopening plans, review their Covid risk assessment documentation and policies, in addition to, aligning the adherence to and implementation of government roadmap criteria and timings. The second step was to meet the Heads of Department, to plan and prepare the return to work of staff who had been on long periods of furlough, ensuring both they and the club would be ready to safely welcome the return of the members, albeit with restricted clubhouse facilities and services.
What are you most looking forward to?
The club identified from a recent members survey the need to change and improve their member experience. I am delighted and excited to have been appointed as the General Manager (at the club where my career in golf began) to coordinate, lead and facilitate the change process with the development / implementation of short, mid and long term strategic / business plans from which the foundation will be built for a successful future.
Have you encountered any challenges over the past year, either personally or professionally?
Absolutely. I unfortunately spent a significant period of time on furlough in my previous role and in particular missed out on the experience of planning and implementing the return to golf post the first period of lockdown, which I would have loved to have been a part of to gain the knowledge and benefit of what went well, what went wrong and what could have been done better. However, the upside to being on furlough was it enabled me to focus on my learning and development and have the opportunity to enjoy daily long walks that helped keep me both physically and mentaly in good shape.
How has the CMAE helped you with your career to date?
My career in golf began nearly 6 years ago coming into it from a very different structured corporate background in sales and marketing management within the FMCG (Fast Moving Consumer Goods) sector. Before choosing the golf industry as a new career, I researched what the role of a club manager / secretary entailed, quickly identifying I had many transferable skills, but, others of which, I had limited experience or knowledge.
The CMAE MDP programme offered exactly what I needed to help me learn and develop the fundamental key core competencies. It also created a vast network of contacts within the industry for me, not just within the UK & Ireland but across Europe, Asia, the Middle East and USA. It's so beneficial knowing help and advice is never far away, if required. The role of a club manager continues to change and evolve, especially within the last 12 months, therefore it is essential to keep my skill set and industry knowledge up to date. The CMAE provides me with the relevant quality and professional training platforms, normally held in an external residential training environment but due to Covid they have had to adapt to working and delivering training programmes differently and its fantastic that courses are being delivered online in the comfort of my own home or place of work to service my requirements, that said my MDP journey continues having recently completed MDP 3 – Strategy & Leadership.
My focus is to now settle into my new role where I hope to make a positive difference and help the club achieve its goals, continue to build on my personal learning and development, and I very much look forward to having the experience of attending the national conference in San Diego 2022 to enable me to progress to achieve the ultimate aim of CCM accreditation, ideally also in 2022, but, as the saying goes " In the race for excellence – there is no finish line"