The CMAE has announced that seven club managers have successfully passed the CMAE's Certified Club Manager (CCM) exam, and they join an elite band of 16 club managers in Europe who have reached this pinnacle of their professional development in the club industry.
Seven members of the Club Managers Association of Europe (CMAE) have joined an elite band of individuals who have gained the Certified Club Managers (CCM) qualification.
The club managers passed the seven hour examination, which focuses on 10 key club management disciplines, including financial, leadership, facility and food and beverage management, to join just 15 CMAE members to achieve the qualification.
They are:
David Cook CCM, Burhill Golf Club, Surrey, England;
Tristan Hall CCM, Aldwickbury Park/Redbourn Golf Clubs, Hertfordshire, England;
Andy Campbell CCM, Ransomes Jacobsen Regional Manager Scotland and Ireland;
Jim Callaghan CCM, Bothwell Castle Golf Club, Glasgow, Scotland;
Padraig Flattery CCM, Athenry Golf Club, Galway, Ireland;
Christopher May CCM, Emirates/Dubai Creek Golf Clubs, Dubai, UAE;
Mark Anderson CCM, Secretary/Chief Executive Officer, The Lansdowne Club, London, England
These seven individuals became the latest club managers to pass the CCM examination, a qualification recognised as the global industry benchmark. The CCM is open to suitably experienced managers who aim to become the best in their business and wish to develop their careers.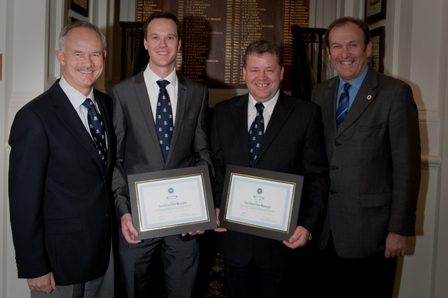 L-R Colin Mayes, Tristan Hall, David Cook & Jerry Kilby
Jerry Kilby, CMAE Chief Executive Officer, said: "Congratulations to these individuals who have achieved the highest recognition available in their profession.
"They are now one of 15 CMAE members who have achieved the qualification since its European launch in 2007, a small but expanding band of highly qualified individuals, but they join many thousands of their colleagues in the USA and Canada, where the qualification has been established for many years."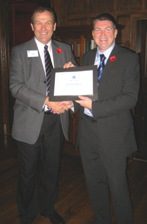 Jim Callaghan, General Manager at Bothwell Castle Golf Club, Glasgow, has become the first golf club manager in Scotland to achieve the CCM.
He said: "It is a great achievement to have gained the CCM designation, I remember being at World Conference in 2007, and being impressed by the knowledge, experience and confidence of those club managers who were CCMs. Three years later, I have achieved that distinction.
"I am one of only 15 club managers in Europe with this status and my club is the first in Scotland to have a CCM as its General Manager. Those facts give me an enormous sense of pride and satisfaction and my role now is to encourage others to follow the same pathway."
David Cook, General Manager at Burhill Golf Club, Surrey, added: "The CMAE foresight and vision to set a high certification standard for club managers of the future to aim for, with the introduction of training programs and support, is clearly the way forward. The added bonus is that this program allows you to meet fellow club managers from all types of clubs, not just golf, from around the world.
"I see this as a great opportunity to encourage my fellow managers to join the CMAE and set the standard for the future."
The CCM is available to more than 6,500 managers in 24 countries through the CMAE and their affiliated partners. CCM examinations take place twice a year, March 31 and November 17, already announced as the two exam dates for 2011.
"A number of club managers are already scheduled to take the CCM examination in 2011, either centrally or at an education facility nearer to their hometown," added Jerry Kilby. "We are taking enquiries every week from club managers from all over Europe who wish to achieve the global CCM status."
For more information about the CCM, to download the registration form or to find out more about the CMAE, visit: