Major players across the golf industry, including Ballybunion Golf Club, are endorsing a Safety and Compliance platform which helps ensure the safety, compliance and training standards at golf clubs are up to date literally at the click of a button.
Golf clubs, golf course management organisations, insurance companies, health & safety and legal experts have all sung the praises of Obbi Golf, an award-winning solution which is simple to install and operate and saves golf clubs time and money and ensure compliance in an ever more-strict regulatory world.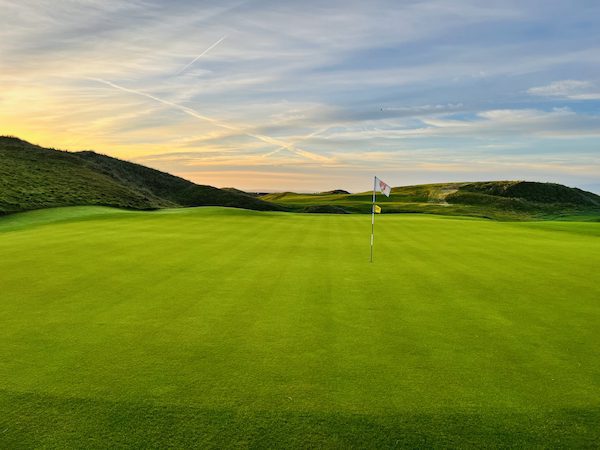 We spoke to Matthew Trousdale, Head of Course Data, Training and Health & Safety at Ballybunion Golf Club, Co. Kerry, to hear more about their experience implementing new software platform Obbi Golf into their team and world-renowned golf course.
Ballybunion Golf Club Embrace Obbi Golf Software
Tell us about your job and club.
Along with general greenkeeping duties, I am Head of Course Data, Training and H&S at Ballybunion Golf Club. I am responsible for collecting and tracking everything from green speeds and surface firmness to soil temperatures and clipping yields. I also oversee training and Health & Safety with our Greenkeeping team.
Ballybunion is one of the most sought-after golfing experiences in the world. Members and guests who play Ballybunion expect exceptional conditions. Our team are always focused on how to consistently exceed the expectations of members and guests.
What was your working life like, pre Obbi Golf. How did you do your training and H&S previously…e.g., risk assessments and policy updates?
My working life, pre Obbi Golf, involved a range of jobs. These included Course set up, cutting greens/surrounds, raking bunkers, and repairing pitch marks.
Prior to Obbi our H&S was a cumbersome process because it was paper based. This resulted in a slower onboarding of new team members as well as inefficient record keeping in terms of H&S. Obbi has helped us overcome these challenges.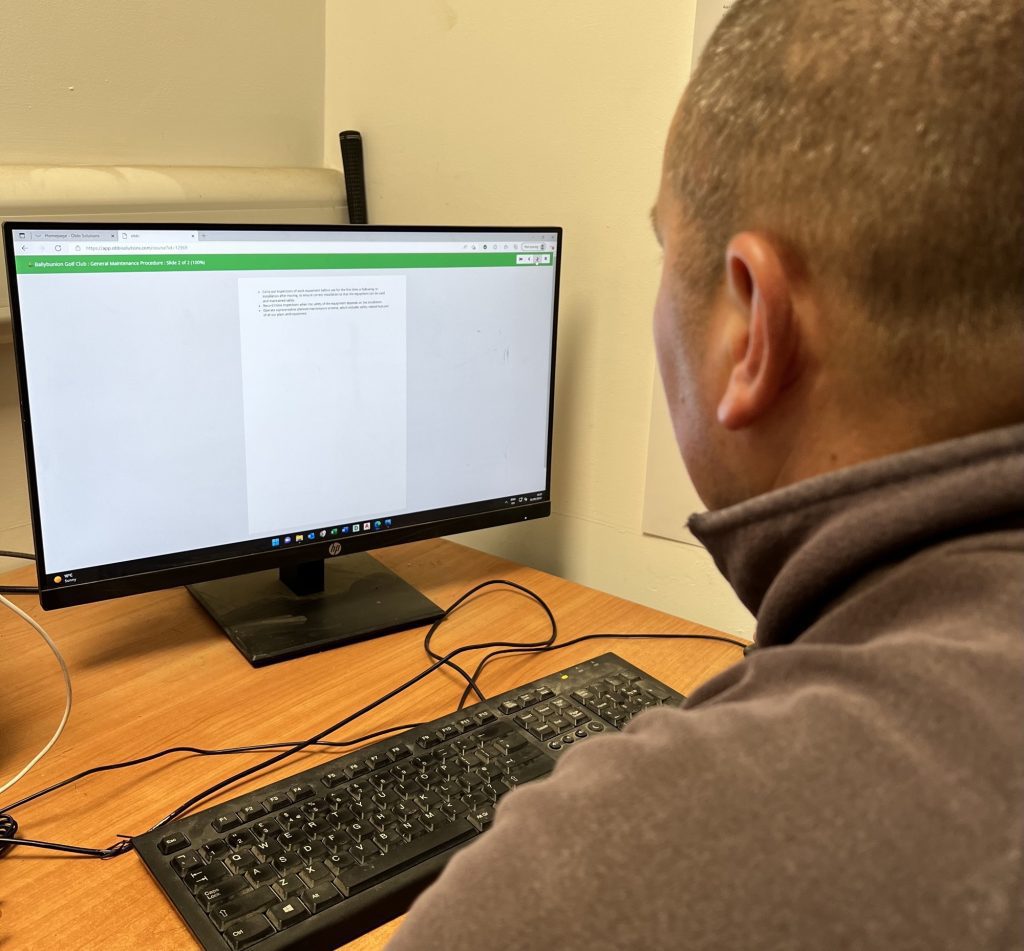 What made you take control of your H&S + Compliance in a pro-active way?
Obbi made the whole transition a very smooth process. The training documents provided by Obbi were very beneficial, including an easy to navigate website. Our team enjoyed logging in and working through the training/Health & Safety manuals, which has helped our team become more cohesive and efficient.
What departments use Obbi Golf?
Over the Summer, we have concentrated on fully training our greenkeeping team. This has proved to be very successful, and we now intend on moving on to our other departments, in the winter months and to be ready for the start of next season!
What were your initial thoughts when you heard Obbi Golf was being implemented?
As a team we are always looking for ways to improve. Our concern was that the software and processes within Obbi would not be user friendly. However, our concerns were unfounded. The Obbi Golf system is incredibly user friendly and the support from the Obbi team has been fantastic.
What immediate benefits do you recognise?
It was clear to see the benefits right from the beginning. Our Greenkeeping team had 24/7 access to all aspects of H&S. Individual log in details has meant they can get all information, on the go. We found there was healthy competition amongst the team, to read and complete training documents. The introduction of QR codes (to report problems/faults with equipment) has made life easier for our management and mechanics team. They are now alerted immediately to any issues. This means better planning, such as ordering new parts and keeping a track of any troublesome faults.
How easy was it to navigate and integrate into your working life?
This proved to be much easier than anticipated. Our Summer months, especially, are extremely busy. We started off the process by doing 1 to 1 training with all team members. With the help of Obbi Golf, we could show the team how to log in to their account and then how to navigate around the site and access training documents. This then allowed us to see where everyone was in their online training journey!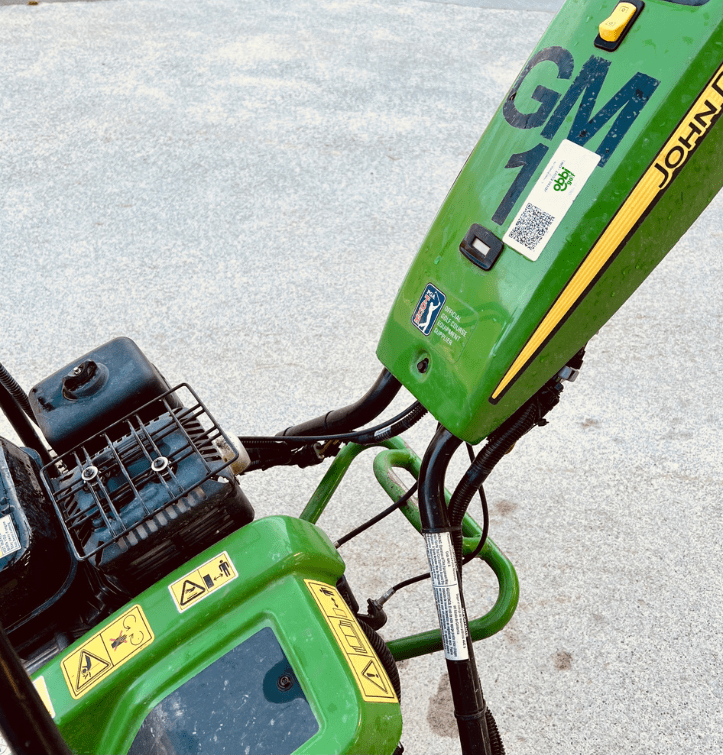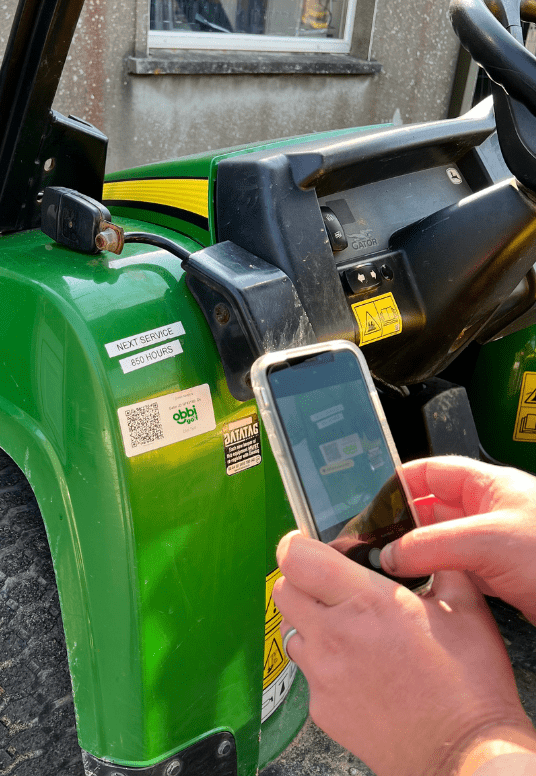 What is a stand-out feature for your team on Obbi Golf?
The QR codes have huge benefits. They are easy to operate, can be scanned anywhere on the course and provide immediate updates to the mechanics. This means team members can report any issues straight away. The team are now more aware of checking equipment before and after use and looking out for any problems.
How would you describe Obbi Golf?
Accessible 24/7.
Streamlined Health & Safety in one place.
Induction to new team members is easier.
Increased flow of communication between myself, the greenkeeping team, management team and our equipment manager.
An extension to the Ballybunion GC team.
Would you recommend Obbi Golf to another club and why?
Yes, we would definitely recommend Obbi Golf to other clubs. Obbi has streamlined our Health and Safety & Training policies. We are working together to reach the highest possible standards in Health and Safety and Training.
Obbi Golf CEO, Gareth Macklin, said,
"We're operators ourselves and were trying to find a platform to integrate lots of the things that are out there. Obbi Golf covers everything around people – from on-boarding of staff, HR, training and communication. It handles processes from quality checks, machine checks, weekly fire checks and audits. Plus, from a safety perspective, it covers risk assessments, accident reporting, insurance documentation. We identified that there are lots of individual solutions out there – from Excel, pen and paper and individual apps – but we wanted to make things far easier and bring it all together.
We've won multiple different awards for innovative product of the year, Irish tech product of the year and we've recently been named one of the top fifty most innovative companies in the UK and Ireland, specifically for this golf product."
To find out how Obbi Golf could help your Club, visit www.obbi.golf