What a year it's been for James Ibbetson, General Manager of Farleigh Golf Club, having been crowned Golf Manager of The Year in the prestigious 59club service excellence awards
What a year it's been for James Ibbetson, General Manager of Farleigh Golf Club, having been crowned Golf Manager of The Year in the prestigious 59club service excellence awards, whilst simultaneously leading his team to a second victory, earning the enviable 'my59 Ultimate Service Excellence' title, in recognition of the club's commitment to engage, analyse and enrich their members and guest experience utilising the my59 survey tools. All while dealing with the pressures presented by the pandemic, and after only one year with the Surry club.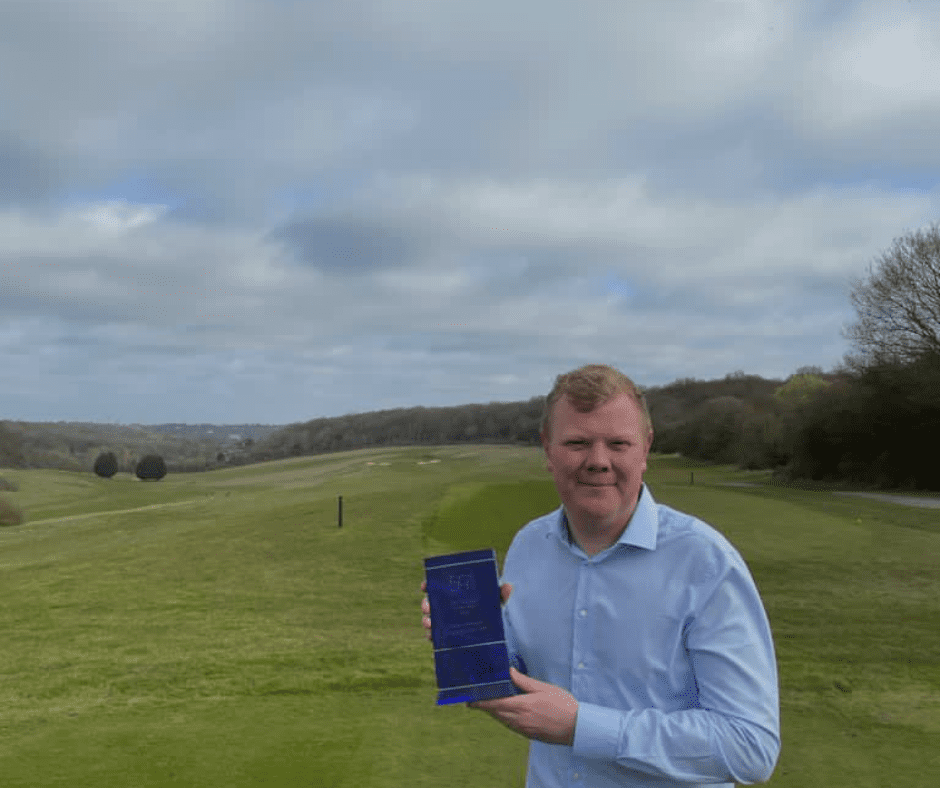 Glory aside; Ibbetson explains how satisfaction surveys have become fundamental at Farleigh, and how 59club's performance management tools are supporting his progressive plans…
I've been working with 59club for the best part of 12 years now and, when I joined Farleigh, in November 2019, introducing the survey tool was one of the first things I did. Indeed, I think it was the first members' survey at Farleigh, and it's something we have continued to do on an annual basis.
The members were given a month to complete the survey, and subsequently their feedback really helped shape the action plan for future development at the golf club, from a policy and procedure perspective, to managing potential investments, etc…
Working in the business, we don't play the golf course that often, as much as we would like to get out there and see it from a member's perspective; so we're heavily reliant on gaining feedback from the members, who play the course day in, day out.
Delivering surveys is not a tick-box exercise; we use the process as a window to gain as much information from the membership as possible, and then we can start acting upon it. There's very little point in doing a survey if you're not going to do anything with the information you collate. We're an open book with the data and try to communicate the results out to the members in as much detail as possible – from experience, the more invested the members are in the process, the more fruitful the feedback. It's also important for them to feel as though their voice and opinion has been recognised, and the club are actively doing something about this.
We value our members interaction with the entire process and as such, we send out snapshots of the results: highlighting areas where we performed well, the 59club analytics in terms of where we sit in relation to the 'industry' and the 'best performers'; and then also the areas where we didn't do so well, outlining the actions we're going to take to improve, and how we're going to get there. We call this our 'You Said, We Did' action plan.
For the most part, members chose to remain anonymous when completing surveys, for those who were happy to waive anonymity it was straightforward to reach out to those individuals. Myself and the team make a point of calling these individuals to try to arrange sit down meetings to discuss their feedback, and any additional points that they may have since completing the survey, in greater detail. Annually, we probably sit down with 30-40 members in person to run through the results.
The 59club survey tool has developed over time, it's a very user-friendly experience. Pretty much all the questions you'd want to ask new and existing members are already saved within the various templates, meaning you don't need to spend hours and hours adding your own questions. Over the years they've developed a key list of questions and criteria that all club managers need. Or at least providing information club managers would like to have.
I've been guilty in the past, perhaps, of making some surveys too long, which has had a negative impact on the response rate. And that came out in some of the early feedback. Nowadays, we are more succinct, and focus on the specific areas we want to explore, and that naturally flows well from a members' perspective also.
Feedback has helped us shape the decision making on our offering. It just gives you a well-rounded representation and, yes, some of the feedback you get may be a little bit pipedream-esque, but for the most part you do get real, solid insight that you wouldn't have achieved otherwise.
Sometimes when you're in the building six or seven days a week you may miss something that's right in front of you. And you certainly don't see it from a member's perspective. It's easier to push decisions through if members feel they've been actively involved in the process and there's logic behind what we are trying to achieve.
You need to show the members that you've taken onboard some of the feedback and that you're going to action certain things, even if you can't action them immediately. Simply sending out a survey and then doing nothing with it is counterproductive. If that's your intention, you're better off not sending out the survey at all. Members take the time to submit their feedback, the least a club can do is sit down and analyse the results, communicating actions in the process.
The more information you have, the better – and the more a member feels involved in the decision-making process, the easier it is to get their support and their buy-in, which is, ultimately, what we're after.
We don't just survey members, though – we also use it for societies. Twenty-four hours after an event, all event organisers receive an automated survey from the my59 software, requesting their feedback: Communication before the event, quality of the F&B and the golf course on the day… amongst many other areas. So, we rely on the information collated by 59club heavily – one of our very early surveys, identified the need for a tee-time confirmation email which has long since been implemented and well received.
We have also taken this a step further in 2021 tailoring surveys for internal use, specifically for our Employee of the month nominations. In the past the nominees had been put forward by the Heads of Department – we felt however that it was important to open this up to all employees to get their buy in. A simple survey is therefore sent out to all staff each month requesting their nominations.
As a result of our 2021 Membership Satisfaction Survey (Sent out in October, over 240 responses, overall satisfaction score of 80%), the following have been identified as priorities for 2022 and beyond. Important to note that some of these areas have already been actioned:
A horsebox halfway house is now available on site during busy days and has been met with some fantastic feedback from members and guests alike.
Inefficiencies were identified with the current booking platform, and as such we are currently working alongside our software provider to make the online customer journey more fluid and ultimately user friendly.
Members can feel a little bit of an anti-climax around renewal time, with feelings as though you hand your money over and that's it – and so in response to this, the ever-popular membership renewal booklet (with over £1,000 in additional value) will return for 2022. And, for the first time in the club's history, all renewing members will receive a personalised bag tag on renewal.
Our member communication came out as excellent – during the lockdown, whilst the club was closed, we sent 2 member round ups each week, which we have now scaled back to once a week.
New tee markers, along with new divot bins and replacement tee caddies will be onsite ready for the season.
Full bunker audit instigated, with the most problematic bunkers being addressed as soon as possible with the remainder works scheduled in order of priority as part of a wider 3-5 year plan.
Additional staff training is currently being undertaken with a view to re-instate table service as of January 2022.
If you're a club that wants to progress and are looking to focus on the things the members & visitors actually want, it's a very, very useful tool. But the biggest piece of advice I have for anybody contemplating it is: if you're going to do it, you've GOT to do it properly.