The annual Joe Perdue Bursaries have been announced for 2017/18 term.
The annual Joe Perdue Bursaries have been announced for 2017/18 term. The European Club Education Foundation (ECEF) who administer the bursaries announced the following recipients for the 2017 bursaries –
World Conference bursary – Mary Lou Watkins, North Berwick Golf Club, Scotland
Management development programme bursaries – MDP 2 – Margarita Pospeshnaya, PGA National, Russia
MDP 3 – Helena Martins, Pestana Vil Sol, Portugal
The Joe Perdue Bursary was established in 2015 following Joe Perdue's untimely death. Joe was the pioneer of club management education in Europe and was instrumental in assisting CMAE establish the now extremely popular Management development programmes.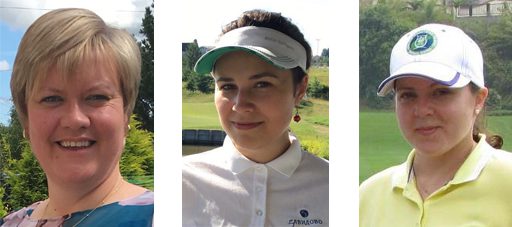 Left to right – Mary Lou Watkins, Margarita Pospeshnaya and Helena Martins
This year there were 22 applications from 7 different European countries, the quality of the applications was extremely high giving the ECEF panel a challenging job in identifying the worthy recipients. The key criteria the panel set was:
Their previous support of CMAE and its education programmes
Their goals in attending an MDP Course within the next 12 months
The funding already available for their CPD at their club.
The impact, which the successful candidate will make upon their colleagues and their area of influence.
Commenting on the selections ECEF's CEO Nigel Cartwright said "the quality of applications this year was exceptional and the panel had a tough time making their selections. However we did have 3 outstanding candidates in Mary Lou, Margarita and Helena. Mary Lou has made a tremendous impact at her club following her participation in all five of our MDP programmes and we are delighted to support her to going to World Conference and ultimately her CCM exam. Both Margarita and Helena have shown great dedication to their own personal development so we are keen to support their continued journey on our education pathway. The ECEF is delighted to offer these bursaries to very worthy candidates and in the honour of Joe who did so much to establish our education pathway."
The three recipients have expressed a great deal of gratitude and satisfaction upon receiving the awards, Mary Lou said "To receive the Joe Perdue Bursary is truly an honour, and I am overwhelmed to receive this bursary. I have been fortunate to complete the five levels of the MDP program due to the support and commitment from all at North Berwick Golf Club and I simply cannot thank them enough for their support.
Attending World Conference in 2018 is truly the icing on the cake – to be given the opportunity to hear and see some of the most inspirational speakers, and gain a truly amazing educational experience whilst networking with many highly qualified managers from all over the world is just amazing!"
Helena commented "It's a great honor to receive the Joe Perdue's Bursary. This award will be a tremendous help for me to take another step forward on this education journey to become one of the first CCM's in Portugal. Participating on MDP 1, MDP 2 and MDP Golf has given me a better understanding of the business, improved knowledge and provided me with tools to become a better professional" whilst Margarita added "It's a unique opportunity and I'm thrilled to go to MDP part 2 in Warwick this October. I participated into the level 1 programme last year and I enjoyed good practices we had together with the team, sharing experience and social networking. I'm lucky to receive the bursary this year and I'm sure lots of fresh ideas come to my mind by the end of the course."
Mary Lou will receive £1,800 to cover her expense to go to the Club Managers Association of America's World Conference on Club Management in San Francisco in March 2018. Margarita and Helena will receive £1,600 each towards attending the CMAE's Management development programmes part 2 and part 3 respectively.
The ECEF is the fund-raising arm of the CMAE. Created in 2011, its mission is to provide financial support for Club Managers' professional development through education, training and research initiatives.
For more information about the Management Development Programme click here