The CMAE are delighted to announce a brand new Capital Improvements Summit taking place virtually on 3rd May 2022.
The summit will focus on increasing your capital through investment including sessions on construction management in clubs and the competencies a club management professional needs to complete a successful project or renovation.
Calling on both industry experts and the talent within the CMAE membership, speakers at the summit will feature Marc Newey CCM CCE – CEO at Roehampton Club together with Jon Grantham MD of LUC ( Land Use Consultants), Edward Plunket CEO and Secretary at the City of London Club, David Luker, CPA, Director RSM US LLP and Andreas Ljunggren, CEO of Österåker Golf Club.
The event is limited to 45 delegates and costs just £100 to attend.
Speaking on the event CMAE Director of Education Torbjorn Johansson said "Our summit series has gained a lot of interest and positive feedback and we are pleased to be able to continue that success with our brand new capital improvements summit".
Booking for the event is now open. To download more information and the booking form click here.
Programme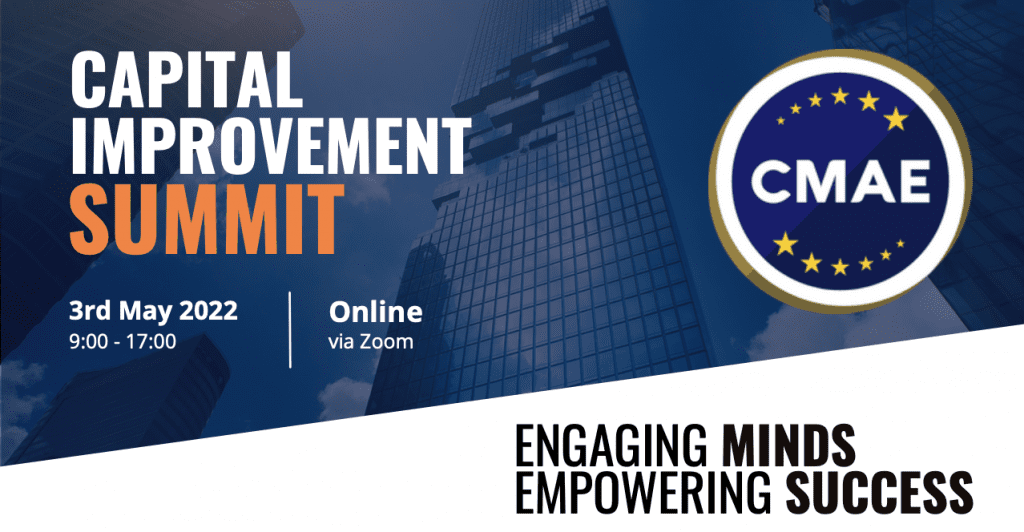 Time & Summit Agenda                                           
09.00 – 09.30
Welcome and Summit Overview
Torbjorn Johansson & Michael McCormack
09.30 – 10.45


11.00 – 12.15
Construction, Committees and Covid – When the rulebook became redundant    

Strategic planning for Development and Maintenance Capital spend
Edward Plunket, Secretary and CEO of the City of London Club

Marc Newey CCM CCE, CEO Roehampton Club & Jon Grantham MD of LUC ( Land Use Consultants)
13.30 – 14.45    
When the dreams become reality
 Andreas Ljunggren, CEO Österåker GC
14.45 – 16.30
Construction Risk Management and Auditing
David Luker, CPA, Director RSM US LLP
16.30 17.00 Closing Remarks & Q&A Toby & Michael