The Joe Perdue bursary is awarded annually to current and aspiring club managers wishing to attend any of CMAE's MDP courses or the World Conference
Applications for the Joe Perdue bursary are currently closed. Make sure you are signed up to our mailing list to receive details of all ECEF bursary opportunities when they open.
---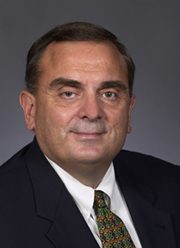 About Joe Perdue
CMAA's Academic Advisor Joe Perdue, CCM, CHE, the club industry's leading hospitality educator, died in Atlanta, GA, January 19, 2015, after a long illness. He was 64.
We wanted to devise a permanent memorial to Joe and have decided to do this by offering an annual award, the Joe Perdue Bursary, which will fund a Manager's attendance at one of our MDP courses each year.
To do this we need to raise the funds each successive year. And this is where YOU can help and show your support and understanding of the role Joe played here in Europe, gifting us the MDP pathway and European CCM examination.
All donations will be held in a special restricted fund, by ECEF, and the award made each year by a panel of 3 judges. The winning applicant must provide a write up on their experiences, for inclusion in a future cmae newsletter – keeping the name of Joe alive.